Welcome to another installment of the monthly anime roundup, where we give you a detailed list of everything coming out! The summer anime season is wrapping up, so there isn't much launching in August. Thankfully, that gives us more time to catch up on all the July offerings because the state of the fall anime season is right around the corner. 
Crunchyroll is continuing its July lineup, so it is Netflix you'll want to tune into for new programs this month. But don't worry; we will update you on all the anime offerings if anything else releases this month. Now, let's check out what you should be watching. 
RELATED: 8 Anime Opening Songs That Are Total Bops
Kakegurui Twin – August 4
First up for August's Anime Roundup is Kakegurui Twin. As a first-year student of the renowned Hyakkaou Private Academy, Mary Saotome knows her future is a one-way cruise to the top. Can an ordinary girl like Mary make friends and survive debtless through only wit and luck? Find out in this prequel to the mega-popular Kakegurui, coming to Netflix on August 4. 
(This is your friendly reminder that this series contains some NSFW themes before you start the trailer)
One Piece Film: Red – August 6 
The next installment for the August Anime Roundup is an honorary one. The 15th film in the One Piece series is coming to theaters in Japan on August 6, with the US release soon to follow. We don't have an official premiere date yet, but we do have the trailer!
RELATED: 10 Women Who Voice Popular Male Characters
The film also received a new synopsis: Uta is the most beloved singer in the world. Renowned for concealing her identity when performing, her voice is described as "otherworldly." For the first time, Uta will reveal herself to the world at a live concert. As the venue fills with all kinds of Uta fans, the voice that the whole world has been waiting for is about to resound. The story begins with the shocking fact that she is Shanks' daughter.
Dota: Dragon's Blood (Book 3) – August 11
Dota: Dragon's Blood has been one of my most anticipated releases coming out of Netflix for the year. Renowned Dragon Knight and adventurer Davion is devoted to wiping the scourge from the face of the world. He soon becomes embroiled in events he never thought possible when he encounters an eldwurm and the noble princess Mirana on her own secret mission. Be sure to catch Dota: Dragon's Blood on August 11 on Netflix. 
Rilakkuma's Theme Park Adventure (Season 1) – August 25
Rilakkuma, Korilakkuma, Kiiroitori and Kaoru are on an adventure to the theme park. Still, with closing time imminent, it leads to a series of fun mishaps and incidents as the group squeeze a day of fun into a tiny amount of time. You can tune in for all of Rilakkuma's misadventures in Rilakkuma's Theme Park Adventure starting August 25 on Netflix. 
RELATED: 5 Masters of the Universe: Revolution Theories
I still have July to finish getting through myself, but I won't miss Dota: Dragon's Blood (Book 3). What will you be watching from this month's August Anime Roundup? Share your excitement with us in the comments!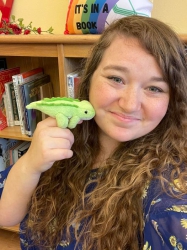 Latest posts by Lauren Darnell
(see all)