Did you know that women voice many male characters in anime and cartoons? This trend isn't new in animation either, as women voice actors have always been more abundant than men, yet people are still surprised to see the faces behind their favorite characters!
Today, we're lifting the curtain and shedding light on a handful of characters you might be surprised to learn are voiced by women. 
RELATED: 5 Sailor Moon References in Turning Red You Might Have Missed
Masako Nozawa – Goku 
Would it surprise you that one of the strongest characters in anime is voiced by an older woman? Well, it's true! Masako Nozawa has been voice acting since the 1960s and has been cast in many male roles, earning her the endearing nickname "The Eternal Boy." Nozawa has voiced the Japanese translations for every male member of Son Goku's family, except Raditz, and we hope she can finish the Dragon Ball series! 
Colleen Clinkenbeard – Monkey D. Luffy
Yes, the infamous captain of the Straw Hat pirates in the anime One Piece is voiced by a woman in English and Japanese translations! Colleen Clinkenbeard is a prominent voice actor in North America with an impressive list of credits to her name, including franchises like Dragon Ball Z, Borderlands and Fairy Tail. Colleen voiced many hardened, badass male and female characters, and we are always excited to see her name on a cast list. 
Mayumi Tanaka – Pazu & Krillin
Speaking of Luffy, Mayumi Tanaka voices him in the Japanese translation of the anime! You'll recognize her voice in Dragon Ball as Krillin and a host of video game acting credits. My favorite role of hers is from the tragically underappreciated Studio Ghibli film Castle in the Sky, where she voices one of the leads, Pazu. 
Tara Strong – Timmy Turner & Ben Tennyson
We could make an entire list of just the cartoon and video game characters Tara Strong portrays. She's one of the most prolific women voice actors of all time. Her voice is a chameleon, taking the shape of superheroes, supervillains, ponies, fairies and little boys!
Tara Strong is our childhood's unsung hero and voice for many millennials. The roles you might be surprised to learn she voices are Timmy Turner from Fairly Odd Parents and Ben Tennyson from Ben 10. 
Veronica Taylor – Ash Ketchum
Veronica Taylor brought everyone's favorite, hopeful Pokémon trainer to life for the first eight seasons of the Pokémon anime in English. Even though Taylor stopped playing Ash, women continued to voice him in America and Japan! Taylor was able to bring that energetic, husky tone to the pre-teen that most people continue to associate the character with even today. 
Regina King – Huey & Riley Freeman
Regina King voices two of the most recognizable siblings in animation on The Boondocks. She was initially cast to voice Riley, but the show's creator was so impressed that he asked her to voice Huey. The show ran from 2005 to 2014 and had her voicing these two opposites. She's mostly moved on from voice acting now and has since started directing instead. 
RELATED: 9 Must-Watch Funimation Anime You Might Have Missed
Nancy Cartwright – Bart Simpson 
Nancy Cartwright is one of the most recognizable characters that no one knows! Nancy plays Bart Simpson from The Simpsons, the longest-running scripted American primetime show at 33 years, but many people wouldn't recognize her face. It is something she addresses in her book, My Life as a 10-Year-Old Boy, and most of the women on this list can probably relate to it. 
Christine Cavanaugh – Dexter & Chuckie Finster
Christina Cavanaugh was known for her scratchy, distinctive voice on shows such as the Rugrats, where she played Chuckie Finster. The terrified toddler wasn't her only significant role, though. Cavanaugh also voiced the titular character Dexter in Dexter's Laboratory. Sadly, Cavanaugh passed away in 2014, but she left behind an impressive voice acting career and an impact on the childhoods of many. 
Kath Soucie – Cubert Farnsworth
Kath Soucie has lent her voice talents to several of the series discussed above, along with Cubert Farnsworth in Futurama! Kath Soucie's voice is highly recognizable, playing roles like the twins Phil and Lil from Rugrats. You could fill a school with the boy characters she voices, but this one caught me by surprise! 
Pamela Adlon – Bobby Hill
King of the Hill was one of the best cartoons of the early 90s, and I was delighted to learn that husky boy Bobby Hill is voiced by a woman. It's something in-universe father Hank Hill would probably initially disapprove of, making it better. There have been rumblings of a King of the Hill revival, and we sincerely hope Pamela Adlon reprises her role. Continuity is one of the critical pillars of King of the Hill, so we feel it is likely!
Who on this list of women voice actors surprised you? Do you think of the character any differently now? Let us know what you think in the comments!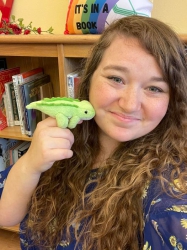 Latest posts by Lauren Darnell
(see all)