Throwing your hair up into a bun is a great way to look presentable, even on busy days when you just don't have time to deal with your mane. While it is the optimum style to hide the appearance of unclean tresses if you skipped a few washes, buns still are quite fashionable and elegant. A major bonus is that the chic up-do is completely versatile since you can style it with short, medium-length or long hair. Furthermore, it's a simple and easy hairstyle that looks cute and stylish while you grow your hair out longer. Here are 20 bun hairstyles that all girls on-the-go should consider trying out.
Half Up Half Down
For an effortlessly chic look, try a half up half down style. This hairdo makes dirty hair look fresh, causing it to be perfect for college students who have been up all night studying and haven't had time to take a shower.
In addition, girls who have fine hair will appreciate the fact that the style will help your locks look more voluminous. If you want to take a little time with the look, you can use a slim curling wand to give your hair added texture and more of a beachy vibe.
Another way to tailor the style is with highlights. Half up half down hairstyles can look stunning with contrasting colors. Experiment with these trending black hair with highlights for ideas.
Space Buns
One of the top trends at the moment is everything early 2000s, meaning that now is the right time to try out space buns. The flirtatious hairstyle will add a little whimsy to your look.
Low Bun
Women on the sportier side are sure to appreciate a low bun. This type of bun will ensure that your hair doesn't stick to your face when you get a little sweaty during Pilates or your next SoulCycle class. That being said, low buns can also be sophisticated. In fact, Meghan Markle opted to wear her hair in this style on her wedding day.
Two Buns Hairstyle
A romantic, slightly more grown-up version of space buns is a braided two buns hairstyle. This style can either be casual or formal depending on what type of braid you choose. For instance, a relaxed fishtail looks low-maintenance, while French braids can be considered something more elaborate.
Messy Bun for Long Hair
Long hair was made for messy buns. For a sleek, yet slightly undone look, fasten your hair at the base of your head with a tortoiseshell jaw clip. To make a serious statement, wear some matching earrings.
Top Knot Bun
Fashionistas everywhere are drawn to the top knot bun and there's no secret why. Not only is it super simple, but it is also rather chic. If you happen to have an undercut, this is a great style to show off the edgy look. While top knots may not seem to be an option for those with short hair, there is an easy fix. Simply put on some clip-in extensions to achieve the style.
Buns for Short Hair
Securing your short hair in a bun may seem like a difficult task. In reality, however, all that is required is a dozen or so bobby pins and a little bit of patience.
Cornrows Braided into a Bun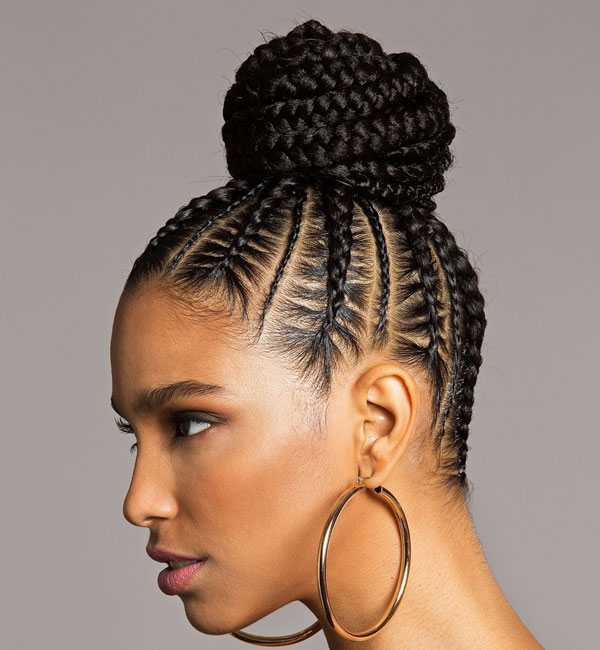 Cornrows braided into a bun is a protective style for those with natural hair. This flawless hairdo is equal parts cool and chic.
Bun with Bangs
A night out on the town calls for a bun with curtain bangs. Trendy celebrities that have recently rocked this 1970s-inspired style include Jennifer Lopez and Rihanna. If you are not quite ready to commit to bangs, you can purchase clip-on ones to try out the look.
High Bun
An easy way to implement a 1960s style into your everyday life is to rock a high bun. To achieve the retro hairdo, all you have to do is backcomb your hair and fasten it in a low chignon. Make sure to use plenty of hairspray to get rid of any flyaways.
Knot Bun
While a knot bun is not exactly a low-effort hairstyle, the lovely look is well worth the endeavor. Ideally, the style is worn at more elevated occasions like weddings or galas. You could even impress potential employers by sporting this style at an interview.
Pigtail Buns
If you're going on a low-key date, like heading to a farmer's market or having a picnic at a local park, consider sporting pigtail buns. Your significant other is bound to think that you are absolutely adorable in this fun, fresh style.
French Braid Bun
If you happen to have nimble fingers and are quite dexterous, a French braid bun is just for you. This is a style rather becoming for those with highlighted hair.
Side Bun
A side bun is an elevated version of a side ponytail, allowing the style to be perfect for office workers who happened to grow up in the 1980s.
Curly Messy Bun
For an alluring style, try out a curly messy bun. Use a curling iron with a small barrel for tight curls and pin back loose pieces. To modernize the look, tie a silk headscarf around the bun.
Black Girl Bun
If you're rocking your natural hair, a braided Black girl bun is right up your alley. To add some fierceness, adorn the braids with glamorous gold beads.
Messy Bun for Medium Hair
A messy bun for medium length hair is an on-trend look that is extremely easy to execute. All you need to do is twist your hair on top of your head and tie it with an elastic ponytail holder or a scrunchie. You can even skip on the bobby pins.
Messy Bun with Braid
Granted, a messy bun with braids may seem like something only a professional hairstylist could pull off. Rest assured that there are YouTube tutorials to make the braiding process a little easier.
Cute Bun
To achieve a cute bun, simply pull out some face-framing pieces and use a flat iron to curl the strands into adorable ringlets.
Braided Bun
A braided bun manages to be both sweet and sophisticated. A popular style is to braid a single strand of hair and wrap it around a top bun.
Latest posts by Geek Girl Authority
(see all)