In a new story trailer released by PlayStation, Ghost of Tsushima is finally given a release date. The epic open-world samurai action-adventure game is the first new video game from Bellevue-based Sucker Punch Productions since inFamous: First Light in 2014. Now gamers can look forward to playing Ghost of Tsushima this coming summer 2020!
In 1274, an invasion force of about 22,000 Mongols, Han Chinese, and Korean troops departed Korea to conquer Japan. On November 4th, the invaders landed on their first target: the Japanese island of Tsushima. Governor Sukekuni of the Sō clan tried to defend his island, but his meager 80 cavalry were overwhelmed and killed. Over the following weeks, Mongols would continue their invasion by attacking the islands between Korea and Japan, before finally landing on the island of Kyūshū.
It is against this historical backdrop that we are introduced to the player-character: Jin Sakai. Jin is one of the samurai on Tsushima who fought the Mongols against overwhelming odds and was defeated. Jin is left as one of the few survivors of the island's defenders. With most of his clan dead and his home occupied by Mongol invaders, Jin decides to abandon the honorable code of the samurai. Resolving to liberate Tsushima at any cost, Jin adopts the more unconventional "Way of the Ghost" to defeat the Mongols and fight for Japan's independence.
Ghost of Tsushima was first teased by Sony Interactive Entertainment at Paris Games Week in October 2017. Teasers and gameplay demos since have generated much enthusiasm and praise among gamers, who favorably compare Ghost of Tsushima to other open-world action-adventure games like God of War or Middle-earth: Shadow of Mordor. Tsushima Island has no waypoints, so the open world can be explored by the player without guidance. Sucker Punch took inspiration for Ghost of Tsushima from Japanese samurai films such as Seven Samurai and Sanjuro, and Jin's traversal (platforming) techniques are inspired by Sucker Punch's earlier inFamous games.
Sucker Punch announced that Ghost of Tsushima will have a digital edition and two physical editions available for pre-order. The Digital Deluxe Editions includes the "Hero of Tsushima" skin (in-game horse, saddle, mask, sword, and armor set for Jin), two in-game items (the Charm of Hachiman's Favor and one Technique Point), a Samurai dynamic theme for your PS4, a digital mini art book by Dark Horse Comics, and a Director's Commentary featuring a renowned Japanese historian. The physical Special Edition includes everything from the Digital Deluxe Edition, except with a physical disc in a SteelBook case instead of a digital copy. The physical Collector's Edition includes everything from the Special Edition, plus a polyresin replica or Jin's mask, a 4.5 foot-long sashimono (a samurai war banner), a furoshiki (a traditional Japanese wrapping cloth used for clothes, gifts, etc.), a physical copy of the mini art book, and a full world map of Tsushima Island (printed on cloth).
Ghost of Tsushima is scheduled to release exclusively to PlayStation 4 on June 26, 2020.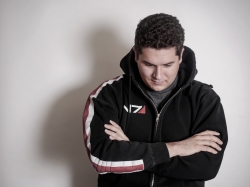 Latest posts by Tyler Boyce
(see all)