Zyra Gorecki is one of the stars of the brand new NBC show La Brea. Gorecki plays Izzy Harris who is dealing with the fact that her mother fell into a giant sinkhole. This sinkhole has separated the town into two parallel worlds; Up Above and Down Below. 
The character of Izzy Harris is a below-the-knee amputee. This is something Gorecki shares with the character. In fact, she is one of the first below-the-knee amputees with a series regular role on a major broadcast television show. La Brea is Gorecki's first major acting role, but already she has also guest-starred on the popular television series Chicago Fire.
La Brea is from Universal Television which is part of Universal Studio Group and Keshet Studios. The show premiered on September 28, 2021, as the "highest-rated new show of the fall season."
I recently had the pleasure of sitting down with Zyra Gorecki to talk about all things La Brea and her experience with her first major acting role. 
RELATED: Aidan Moreno Talks Heartland, Making Music and His Kind of Trouble
Zyra Gorecki Interview
*This interview has been edited for clarity and length
Becca Stalnaker: My first question is, La Brea is your first major acting role, what has that experience been like?
Zara Gorecki: A lot, it's a lot to take in, I think, at any age, really. It's, been really, really, really fun because you know I walk on set and I have no idea, I don't know what I'm doing, or you know, nobody ever was like, "You're a fool." Everybody just kind of took me under their wing and they were like, Alright, this is how do you do it, this is how you, you know, this is camera A, this is camera left, you know, just basic stuff that you wouldn't even think about, but everybody was super nice about it.
BS: What's your favorite thing about your character, Izzy?
ZG: My favorite thing about Izzy is, so David wrote her intentionally as an amputee, right? And my favorite thing about Izzy is that she is not just a leg, right, she has a personality, besides being an amputee. You know it's not her only personality trait. And she is just a regular kid trying to get through life. And I think that's really important for people to see that even though you have something different, you are just a regular human being.
BS: If the events of La Brea were to happen in real life do you think you would react similarly to Izzy?
ZG: If my mom fell into a sinkhole I'm very sure that I would just go "duce's" and jump in after her. I think I would not have the mental strength to just like stay behind. It's not me. We're going. It's both of us, we're going together.
RELATED: Danny Mahoney Talks Purgatory and What the Rest of the Season Holds
BS: So tell me, when it comes to your character, Izzy, is there any specific area of her personality that you most closely identify with?
ZG: Okay, I don't want to sound cocky, but I think she has different strengths, right and I think some of her strengths are not just staying calm in these, you know, nutso situations but also keeping her head about herself and figuring out how to help with the situation and I like to think of myself as that. I don't know if that's actually true, but I like to think of myself as that.
BS: Has there been a particular scene or episode that you've enjoyed the most, for filming?
ZG: In episode three at the very end of it. There's a scene in a waiting room that Gavin comes in and Izzy sees him, and she just breaks down. That was real. That was very real. I was just sitting in the room in my thoughts and then he walks in, Gavin, uh Eoin walks in and he looks so sad and so broken and I just started bawling. And I'm genuinely proud of how it looked on screen, I did not realize that it looked like that. And then I think a really fun scene was episode four. At the ranch. That was really fun to do. It's where we first meet a new character.
BS: Alright, last question. As this continues, do you think you will keep acting?
ZG: Oh yeah, absolutely. I'm having a great time!
RELATED: Emma Kenney and Ames McNamara Talk The Conners Season 4
BS: Okay, great. Well, I really appreciate you taking time out of your morning to talk to me. So thank you so much. 
ZG: Absolutely, my pleasure, thank you.
Be sure to catch Zyra Gorecki and her castmates on La Brea. The show airs every Tuesday at 9 p.m. on NBC. It is also available the following day on Hulu and Peacock.
Check out the trailer below and let us know what you think in the comments!
Hannah Levien Talks BRAND NEW CHERRY FLAVOR, Her Dream Roles and More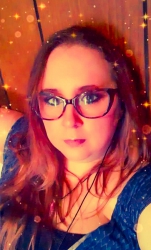 Latest posts by Becca Stalnaker
(see all)