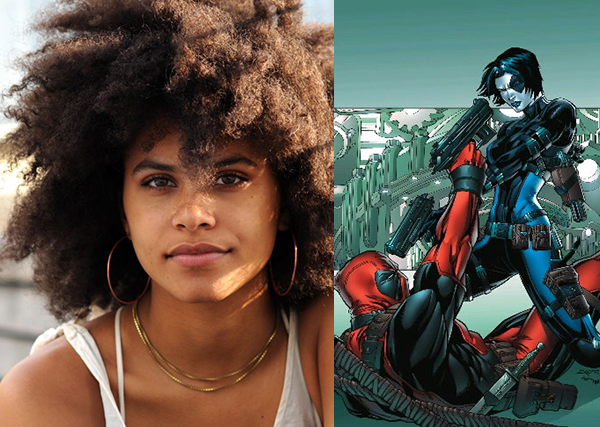 That is RIGHT friends, Atlanta star Zazie Beetz joins Deadpool 2 as Domino! Rumor had begun to circulate today that she had screen tested and the production team liked her. Ryan Reynolds appeared to confirm the rumor by posting an image of dominos, spelling out her name. First Cable, now Domino!
For those that don't know – Domino is a mutant first fully brought to the page in X-Force in 1992. She was created by Fabian Nicieza and Rob Liefeld, the same men who brought you the Merc with the Mouth. On X-Force, she's an expert marksman, helped out by her mutant power of probability-altering powers. Makes shooting targets a whole lot easier. She's also great at hand to hand combat, using all her skills mostly as a mercenary. She's been a lover of Cable, so get ready for some love triangles.
RELATED: DEADPOOL 2 Teaser Trailer Drops Online
Deadpool 2 is currently in production with no name set nor release date set outside of '2018'. Filming is currently set to start June 19th so Beetz has been cast with plenty of time. No word on Cable casting yet, so we'll be looking out for that. After all the drama with director Tim Miller leaving and Junkie XL leaving, it's nice to be getting even more good news. And with the short that was attached to Logan, we're sure to get some more fun.
What do you think of the casting? Are you looking forward to a live-action Domino? Let us know and be sure to come back to Geek Girl Authority for your geek news!
https://twitter.com/VancityReynolds/status/839947701487796224
Latest posts by Erin Lynch (see all)