Following the 2023 Summer Game Fest Livestream, Xbox held its own showcase to update fans on previously announced titles, show off upcoming DLC for existing games and, of course, reveal brand new games for the coming years. This stream gives gamers a better idea of what to expect coming out on Xbox Series X|S, Xbox Game Pass, and PC. With so much shown in the stream, we've picked our top games to round up here. 
Cyberpunk 2077: Phantom Liberty 
First, we have to talk about Phantom Liberty, the big Cyberpunk 2077 story expansion releasing on September 26. We also got a trailer for the game, showing the return of Keanu Reeves and the introduction of Idris Elba. Phantom Liberty's missions will take players to an entirely new area of Night City.
RELATED: Protips for The Legend of Zelda: Tears of the Kingdom
Starfield
Starfield is another previously announced game that we got an extended look at. While it stated the in-game footage was not final, seeing a trailer that wasn't fully cinematic for a change was nice. We saw shots of planets, ships, native wildlife and game mechanics. Starfield is expected to launch close to "holiday time" this year, according to the stream. 
South of Midnight
The most unique game we saw in the showcase was South of Midnight. Part of what makes this game so different is its stop-motion-inspired animation. So far, we have only seen a cinematic peek, but I'm excited to see if the gameplay carries the same art style. South of Midnight will be available on Xbox Game Pass when released on Xbox Series X.
RELATED: GGA's Most Anticipated Video Games Dropping in 2023
Star Wars Outlaws
This is not a drill; a HUGE, open-world Star Wars game is coming out. Star Wars Outlaws will feature iconic staples like cantinas, a Rancor, Stormtroopers and more. Plus, a new, adorable animal companion rivals even Loth-Cats in cuteness. The game is coming to Xbox Series X|S in 2024.
Clockwork Revolution 
Clockwork Revolution is a first-person shooter with a steampunk theme, and there were hints of time manipulation mechanics. I got major Bioshock vibes from this reveal, so I'm excited to see more soon. The trailer promises it is coming "in due time," so hopefully, we will see a gameplay trailer before the end of the year.
Did your most anticipated title from the Xbox Showcase make it to the list? Which game are you most excited to see from the showcase? Comment to share your thoughts with us!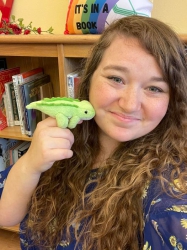 Latest posts by Lauren Darnell
(see all)