The summer game announcements keep rolling with the Xbox and Bethesda Games Showcase for 2022. This display replaced Microsoft's annual E3 showcase and showed dozens of games packed into the runtime. Not all games got the same timeslot during the live stream, with the new Forza Motorsport and Starfall receiving a vastly extended look. 
That said, we still got some great announcements, new game trailers, dev comments and more. This list will serve as a roundup of our most anticipated titles featured during the showcase. Not all of these have release dates yet, but Xbox corporate vice president Sarah Bond promises the games shown during the Xbox & Bethesda Games Showcase will release within the next 12 months. With that in mind, let's get into the games we are excited to play!
RELATED: PlayStation State of Play 2022: 5 Indie Games That Have Us Hyped
Hollow Knight Silksong 
One of the best things to come out of the showcase is finally getting a better look at the next entry in the Hollow Knight franchise, Hollow Knight Silksong. We didn't get a solid release date, but it was announced as a day one Xbox Game Pass. The trade-off for the missing release day was an extended look at the game's stylized art, frantically paced combat system and Metrovania-styled exploration.
A Plague's Tale: Requiem
Xbox and Bethesda Games Showcase blessed us with a more extended gameplay trailer of A Plague's Tale: Requiem, and folks, it's going to be dark. The new gameplay trailer gives a different and darker look at Amicia, who appears much more cruel and ruthless than in the first game. A Plague's Tale: Requiem is expected to release in the winter of 2023.
High On Life 
From the mind of Justin Roiland, the creator of both Rick and Morty & Solar Opposites, comes High on Life. An alien cartel threatens humanity, who wants to use them as drugs. You must rescue and partner with charismatic, talking guns, take down Garmantuous and his gang and save the world.
Overwatch 2 – Junker Queen
Speaking of a game packed with humor, we got more from Overwatch 2! A new cinematic teaser trailer for the Junker Queen was revealed today as part of the Xbox & Bethesda showcase. Will she be my new main? Probably, and we don't have long to wait. Overwatch 2 early access begins on October 4, 2022.
RELATED: Summer Game Fest 2022: The Hunt Resumes in the Aliens: Dark Descent Trailer
Ark 2
The Ark 2 reveal trailer invites players to survive the past and tame the future. Players will awake in a primal world filled with dinosaurs and humans struggling for dominance. You must team up with legendary heroes to confront dark forces. We received glimpses of characters Santiago (voiced by Vin Diesel) and his daughter Meeka (voiced by Auli'i Cravalho). So far, we know that it will release sometime next year!
Ravenlok
Ravenlok brings us through the looking glass for an action-adventure-styled run at an Alice in Wonderland-inspired world. This game was tucked into the Xbox and Bethesda Games Showcase between some fierce AAA game titles and still managed to stand out. The imagery is vivid and bright, making the horrific creatures feel all the more out of place and in need of slaying. We can look forward to playing Ravenlok sometime next year. 
Cocoon
While we are on the topic of things that make my skin crawl, the studio behind the critically acclaimed game Limbo released a trailer today too. Their new project is Cocoon, a puzzle platforming game about an alien. It's unclear what our goal is or what planet we are even on, but the gameplay looks intriguing. We can look forward to playing Cocoon in 2023. 
Persona
That's not a typo; we are getting Persona games on the Xbox! I honestly never thought this would happen, but it's true. Previously a Playstation exclusive, the acclaimed RPG series is finally going cross-platform to delight Xbox players. The games will release in stages, with Persona 5 Royal (P5R) debuting on October 21, 2022. 
That's a wrap on our list! Which game are you most hyped for from the 2022 Xbox and Bethesda Games Showcase? Did we miss your favorite announcement? Tell us in the comments!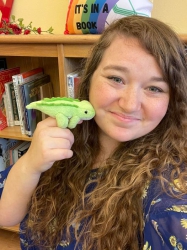 Latest posts by Lauren Darnell
(see all)