Welcome back to Wynonna Wednesday, Earpers! If you're like me you eat, sleep and breathe all things Wynonna Earp. Each week we'll delve deeper into our favorite s**tshow. I suggest you stockpile on whiskey and doughnuts. Perhaps some tasty tacos? 
Now, this week I'm going to take a brief hiatus from the Buffy the Vampire Slayer vs. Wynonna Earp character comparisons. Not to worry, we'll resume our regular programming next week. Black Friday is, well, this Friday. Cyber Monday is not far behind it. For this Wynonna Wednesday, I want us to get festive. Really succumb to the Holliday season. Celebrate Earpmas the way it was intended – by picking out gifts the Earper in your life will cherish forever. Thankfully, we Earpers are easy to please. I've chosen ten gifts to present your Earper below. Peruse them at your leisure, but don't delay too long. Earpmas is upon us, after all. 
"I'm Here & I Stay" Unisex T-Shirt
Calling all Waverly Earp fans! This is the shirt for you. A simple black tee emblazoned with Waverly's words "I'm here and I stay" alongside beautiful angel wings to symbolize the former's newly discovered heritage. The semicolon in the center represents mental health awareness, something that is near and dear to the Wynonna Earp fandom. If there's anything we've learned from watching this show, it's that Emily Andras sure loves injecting things with multiple meanings. Go here to purchase. 
Wynonna Earp Cast Digital Art Poster
Does your Earper love posters? Minimalist artwork? The original five members of the Black Badge Division? Well, this beautiful character poster featuring Wynonna, Waverly, Nicole, Doc and Dolls might be the perfect gift for your Earper. Mosey on over to Etsy to snag it. 
WayHaught Throw Pillow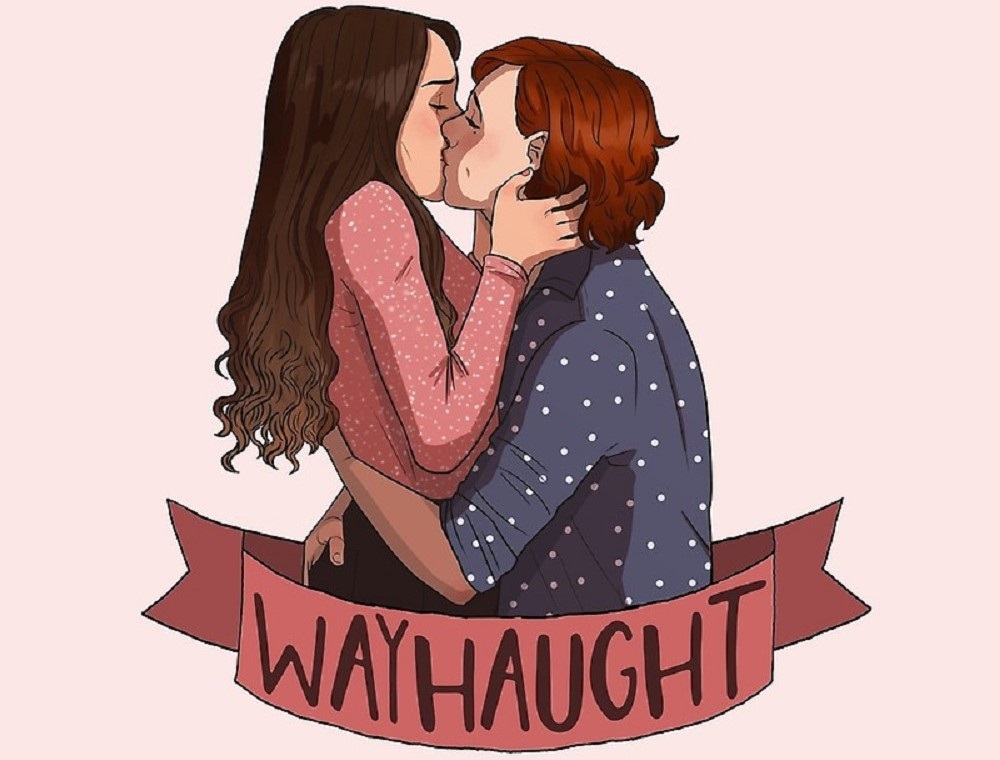 Now, this pillow is for dedicated WayHaught fans only. Has your Earper ever wanted to rest their head upon their favorite Wynonna Earp couple? Well, now they can! Your Earper can snuggle those winter blues away with this precious throw pillow featuring a cartoon version of WayHaught. You know, being their adorable selves. Love is love is love is love. Buy it here. 
Wynonna Earp Coffee Mug
Alright, we've all been there – stumbling into an early morning after a late night "studying." Running on essentially fumes. Bloodshot eyes rimmed with the darkest of circles. You need an IV of coffee STAT. Just an incessant stream of caffeine to the veins. Or, perhaps you're just not a morning person, and cannot interact with other humans until you've had the appropriate amount of coffee. Well, this coffee mug is for just such an Earper. It features our favorite Earp heir in three stages: the top line "Shhh," the secondary line "Almost" and the final line "Now you may speak." A handy dandy guide for those around your Earper to steer clear until the correct amount of coffee has been consumed prior to social mingling. Earpers need their caffeine just as much as the next person. Go here to purchase. 
RELATED: Read All Wynonna Wednesdays Here
Wynonna Earp Sign Wooden Pin
If there's one thing that can be said about the Earper community, it's that we're an inclusive bunch. This one of a kind wooden sign is indicative of just that. Co-collaborator Joe created this special sign that has been fully embraced by the Wynonna Earp cast and fans alike. Here's what Joe had to say on what this sign means to him:
"The sign means unity, and inclusion of the Deaf Community and our language. I've never seen a sign that was so embraced by the fandom and its cast. It means so much to me to know that many people use it to associate with Wynonna Earp and acknowledge my culture and language."
And, if you'll recall, our gracious cast even put this very sign on display after winning the People's Choice Award for Sci-Fi/Fantasy Show of 2018. I've never witnessed a TV cast that interacts so much with its fans and is so genuinely grateful to them. Mosey on over here to buy this gift. 
Purgatory Sheriff Beanie Hat
Now, sheriffs especially need to keep their heads cozy while protecting their respective towns from evil. Whether your Earper is a sheriff fending off demons or simply a Wynonna Earp fan eager to put their love for the series on display, this beanie will keep them warm during those cold winter nights. A perfect gift for Nedleys and Haughts alike. Nicole Haught sold separately. Click here to purchase. 
Wynonna Earp Necklace
Alright, this next gift is for the Earper who best identifies with the Earp heir herself, Wynonna. It's the perfect recreation of her famous necklace from her time in Greece. "Aonva" is Greek for "Athens." Remember when Wynonna was constantly losing this necklace, and Dolls would retrieve it for her? And when Dolls passed this mortal plane Wynonna draped it over his gravestone? My heart still hurts, Earpers, and it may never fully heal. Go here to buy this for your Earper. Great for Wynonna cosplays! 
Welcome to Purgatory Shot Glass
Does your Earper wish to drink where Wyatt Earp did? Well, unfortunately I can't bring Shorty's to their doorstep, but I can present you with this picture perfect gift for the Earper in your life who loves a good whiskey. This shot glass reads "Welcome to Purgatory." Nothing screams Purgatory more than demons and drinking. Hey, if I had the incessant stress of fighting off monsters on my back I'd drink the well dry too. Doughnuts sold separately. Click here to snag it. 
Earp Sisters 20″ x 10″ Canvas Painting 
Now, this is for the Earper who shares a close bond with their siblings. One thing I personally adore about Wynonna Earp is the intimate yet fortified bond Wynonna shares with sister Waverly. It's relatable for anyone who's close with someone, whether they're family by blood or not. You forge your own family. And if there's one aspect of Wynonna Earp that's touted as a positive it's the notion that family isn't merely blood. It's the bonds you share with your loved ones – those who will cherish and support you through thick and thin. So, gift this to the Earper who means the world to you. Sisters, brothers, friends and lovers alike. Purchase this beautiful canvas painting here.
#FANDRAS Tri-Blend T-Shirt 
Lastly (but certainly not least), I present you with the Earp-iest gift of them all: a shirt paying homage to our dear Mama Earp. Emily Andras riding a fire breathing unicorn with a hunk of cheese protruding from its horn and a glass of wine in hand. Oh, and one can't forget the Canadian glasses Emily's wearing, the LGBTQIA+ cape flowing behind her and the Peacemaker at her side. A beautiful shirt for a beautiful human. The Queen Mother of us all. We're all fans of Andras. And what better way for your Earper to support our Queen than by proudly wearing this t-shirt? Mosey on over here for this one-of-a-kind present. 
RELATED: Shopping for that special someone who loves more than one fandom? Peruse our other holiday gift guides here!
Now, I sincerely wish you all a wonderful Earpmas wherever you are, Earpers. Celebrate this joyous Holliday season with those you love. My hope is that these gift suggestions will guide you in showing your love for the special people in your life. May the whiskey never run dry, doughnuts be plentiful and the tacos remain the tastiest of tacos. Merry Earpmas to you and yours!
Well, that's all I wrote, Earpers. Be sure to keep your eyes peeled, your whiskey bottles full and doughnuts at the ready for next week's Wynonna Wednesday! We'll continue our Buffy the Vampire Slayer vs. Wynonna Earp character comparisons with Xavier Dolls vs. Angel. Or perhaps not. You'll have to tune in Wednesday to find out. I solemnly swear that every Wednesday will be no chill, Earpers. All the no chill. 
Latest posts by Melody McCune
(see all)