The world of collegiate esports has been rapidly expanding over the past few years. With Heroes of the Dorm, the Collegiate Hearthstone Championship, the Tespa Collegiate Series for StarCraft II, the League of Legends College Championship, etc. we are now starting to see esports become a legitimate alternative to traditional sports in college campuses across the country.
Many colleges and universities now sponsor their own esports teams and a few offer scholarships to promising players. Even though collegiate esports is predominately male-driven, there are quite a few co-ed teams. There are not; however, all-female collegiate teams, but that could possibly change in the near future.
ESPN reported on Thursday that Stephens College, an all-women's school in Columbia, Missouri, will become the first all-women's college to have a varsity esports team.  The school will also award partial scholarships to eligible candidates.
"Esports is quickly on its way to becoming a billion-dollar industry, and we believe women should have the same opportunities as men to succeed in this emerging business. Stephens' mission across all our programs has been to ensure women have a seat at any table. Getting involved in esports is part of that long-standing tradition, and aligns with our mission to promote teamwork, communication skills, as well as more interest in the science and technology fields for women," states the school's esport webpage.
The varsity team will focus their attention on Blizzard Entertainment's widely popular shooter/team arena game Overwatch, a game that promotes a diverse cast and strong female characters. The team plans to compete in the Tespa Collegiate Series in the Fall with a potential roster of 6 starters and 6 "bench" players.
There will certainly be challenges in building an all-woman's team from the ground up, but Stephens College is certainly taking the right steps in building a solid, competitive team. They will undoubtedly serve as the model for other colleges to follow. All eyes should be on them come the Fall when they participate in their first major collegiate competition, and I, for one, will be cheering them on.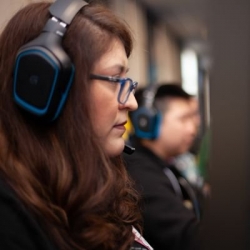 Latest posts by Renee Lopez
(see all)