Renton-based Wizards of the Coast is famous as the company behind 3rd, 4th, and 5th editions of the Dungeons & Dragons (D&D) tabletop role-playing game (RPG), as well as the Magic: The Gathering trading card game. Yesterday, Wizards announced they are reaching for the stars with a new video game studio: Archetype Entertainment. Headed by former Bioware developers, Archetype's debut title will be a multi-platform science-fiction RPG.
When Wizards of the Coast announced in April 2019 that they had hired former Bioware developer James Ohlen (Star Wars: Knights of the Old Republic, Dragon Age: Origins, Star Wars: The Old Republic, and more) to head a new studio based in Austin, TX, there was a lot of speculation on what type of projects Ohlen would be developing. At the time, Arcanum Worlds (the tabletop RPG publisher Ohlen co-founded) was in the middle of a highly-successful Kickstarter for Odyssey of the Dragonlords: Arcanum Worlds' original D&D 5th edition adventure setting based on Greek mythology. However, James Ohlen also has significant experience adapting D&D into video game RPGs, given his credits as Lead Designer/Creative Director for Baldur's Gate, Baldur's Gate II: Shadows of Amn, and Neverwinter Nights.
All that was known at the time was that the new Austin-based studio would be developing an original IP outside of the D&D and Magic: The Gathering brands. Yesterday, Wizards of the Coast announced the official launch of Ohlen's studio: Archetype Entertainment. According to Archetype's website, the studio is an "autonomous division of Wizards of the Coast", with a mission statement to create the greatest story-driven role-playing games in the world. Archetype promises players that the "choices they make will have real consequences on how their story unfolds".
Not much has been revealed yet about Archetype or its IP, but two confirmed employees are its Studio Head (James Ohlen) and General Manager (Chris Robertson). Another Bioware veteran, Robertson is probably best known as the Head of Live Service for 2019's disastrously-launched Anthem. Last year, Roberston announced that November 1, 2019 would be his last day at Bioware. In addition to the role of General Manager, Robertson also holds the title of Vice President.
That Archetype Entertainment's IP will be a video game is nothing new: Wizards of the Coast has recently made a major push into the video games industry with announcements for titles like Baldur's Gate III by Larian Games and Dungeons & Dragons: Dark Alliance by Tuque Games. However, Archetype's upcoming video game will be the first new Wizards IP since Avalon Hill and Duel Masters were acquired in 2004. Also making Archetype's IP unique is the setting of a new science-fiction universe. Wizards don't have much experience outside of the fantasy genre…unless one counts the Transformers trading card game? In that regard, it was wise to bring on Ohlen and Robertson, who both previously worked on the expansive sci-fi universe of Star Wars: The Old Republic.
What do you think of the news? Are you excited for Archetype's story-driven sci-fi RPG? Do you think Ohlen and Robertson have enough clout to live up to their studio's expectations? Geek Girl Authority will definitely be keeping an eye on Archetype Entertainment for years to come!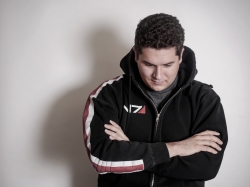 Latest posts by Tyler Boyce
(see all)