As many people have been keenly aware, there are no seasons in The Sims 4 – every day is as beautiful and sunny as the next. Well, that is all about the change. EA and Maxis have announced that the next expansion pack will bring on the seasons.  
The Sims 4: Seasons will feature Spring, Summer, Fall, and Winter along with unique holidays, weather, and family activities related to each season. In Spring, players can enjoy the outdoors while walking in the rain and in Summer the family can spend time outside in a pool. During the Fall players can harvest goods, or make holiday crafts and in the Winter players can enjoy the snow or go the ice-skating rink.
"With a vast variety of weather elements that empower the ways players can play with life, The Sims 4 Seasons will allow players to use their Sims to tell relatable stories like those they've experienced in real life. The ever-changing weather will transform worlds in unique ways by impacting gameplay choices, Sim's relationships, and Sim's daily life, while also delivering new challenges," said Producer Grant Rodiek in a press release. "Our team has worked hard to bring this highly-requested expansion to the game, and The Sims 4 Seasons adds more dimension to The Sims universe than ever before."
Players can also advance their gardening career by choosing to be a floral designer or a botanist. As a floral designer, players can create floral arrangements and make deliveries. As a botanist, players can analyze plant life, make scientific discoveries, and receive grants. Advancing in these careers unlocks new outfits and new useable objects.
RELATED: Everything You Need to Know About 2018's Overwatch Anniversary Event
For more information you can visit the website or you can watch the announcement video below.
The Sims 4: Seasons will be released on June 22 on PC and Mac.
[Images courtesy of EA and Maxis]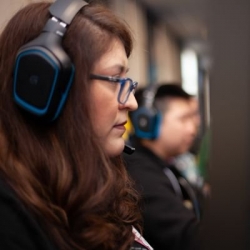 Latest posts by Renee Lopez
(see all)