The 2022 Wholesome Direct is an indie game showcase highlighting upcoming cozy games. It streamed a few days ago, showing off nearly 100 games, dev announcements and exclusive footage. We've narrowed this list down to 15 we think you will absolutely love. They are all indie games, meaning small, passionate teams make them. One of the best ways you can support them, besides buying the game, is by wish-listing them. That tells the community and platform that you are excited about the game. So while you are reading, be sure to wish list everything that interests you. Do it for the devs!
This year's Wholesome Direct is fundraising to support the Galaxy Fund. This is a prototype grant focused on the earliest stages of game development. It awards a $50,000 prototype grant backing early-stage experiments and bold new ideas from BIPOC, femme, and queer game creators. If you would like to help support this grant, you can buy a fundraiser shirt until the end of June 2022 here.
RELATED: 6 Awesome Indie Games on the Nintendo Switch
Little Bear Chef
Little Bear Chef by BananaBox is for anyone who ever wanted to be a tiny chef in a giant kitchen like Remy, the rat. The teaser for it was short but enticing, and I can't wait to get more gameplay footage. We don't have a solid release date, but hopefully, we will get something soon. 
LumbearJack
Speaking of bears, I'm so excited to start LumbearJack. This is a puzzle game from FinalBoss Games about a bear who chops his way through obstacles. It was released on June 11, so it is ready for you to play now. 
Freshly Frosted 
If you love unique puzzle games, you'll want to check out Freshly Frosted! Developer The Quantum Astrophysicists Guild invites you to place conveyor belts to solve puzzles in the world's most adorable donut factory. It was also recently released on June 10, so you can play it today. 
Mika and The Witch's Mountain
Chibig's Mika and the Witch's Mountain brings my Kiki's Delivery Service loving heart so much joy. It follows apprentice witch Mika in a fantasy coming-of-age adventure. In order to complete her training, Mika must help out the townspeople living at the bottom of the mountain, bringing them packages on her magic broom. It will be flying into our lives sometime this year. 
RELATED: F2P Friday: one night, hot springs
Love, Ghostie
I love games that walk the line of spooky yet cozy, so Love, Ghostie is very appealing. Developer Janbeh Games invites gamers to step into the role of a wholesome ghost matchmaker and nurture the relationships between the mansion's residents. No deceased date- I mean – release date has been announced yet, though.
Usagi Shima
Usagi Shima from Godot Engine is a bunny collecting sim with a soft color palette and relaxing vibe. So far, it reminds me of a mobile game called Cats & Soup without microtransactions. It looks adorable, and I can't wait to get a release date!
A Little to the Left
A Little to the Left is a cat-themed cozy puzzle game from Max Inferno and Secret Mode that has you sort, stack and organize household items into pleasing arrangements. The trailer reminds me of Unpacking and we can look forward to inching items just a *little* to the left later this year. 
RELATED: Summer Game Fest 2022: Our Most Anticipated Announcements
The Wandering Village
The Wandering Village is a city-building, management sim by Stray Fawn Studio. In it, a small group of survivors seeks shelter on the back of a giant, wandering animal. You'll lead them as they build their settlement and form a symbiotic relationship with the creature to survive together in this hostile, yet beautiful world. Gamers can look forward to starting this adventure later this year. 
Fall of Porcupine
Buntspecht Games' Fall of Porcupine is an interactive adventure game that reminds me of Night in the Woods with the art, light platforming elements and autumn setting. The collision of work and daily life – an exciting reflection of an unhealthy healthcare system. There is no release date for it yet. 
Papertrail 
Papertrail by developer Newfangled Games was one of the most unique games shown off during the 2022 Wholesome Direct. It is a top-down puzzle-adventure set in a foldable, paper world. To progress through the game you have to fold the screen in a combination of ways to reveal the full path. Papertrail should be out in early 2023. 
SCHiM
Speaking of puzzle games, SCHiM is another game that caught my eye with its unique mechanics. In this game by publisher Extra Nice, you play as a blob jumping from shadow to shadow in a challenging and lively environment. This 3D platformer takes elements of light & animation and adds them directly to the gameplay. No release date on this one yet, unfortunately. 
RELATED: Xbox and Bethesda Games Showcase 2022: Our Most Anticipated Titles
Wholesome Out and About
Wholesome Out and About by Yaldi Games is a cottage core life sim full of cooking, foraging, customization and learning. One of the things that made this game stand out for me is the realistic ingredient identification mechanic. You can play and learn about real-world foragable herbs. We will be able to explore this world sometime next year. 
Tracks of Thought
Tracks of Thought by Tidbits Play is part RPG, part diner simulator and part card-based adventure set on an intergalactic train. I think? The appeal of this game, beyond the adorable character designs, is the great mystery of its plot. Will you be hopping on this train when we get a release date? 
Hello Goodboy
I'm sorry to end this list on a sad note. Our final game is Hello Goodboy by developer Rolling Glory Jam. It's a non-linear adventure game about a lost soul and his dog who set out on an otherworldly trek through the afterlife. You can look forward to setting out on this adventure later this year with a very good boy by your side. 
Did you find anything from the 2022 Wholesome Direct to add to your wishlist? Did we overlook one of your favorites from the live stream? Tell us in the comments.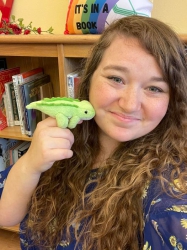 Latest posts by Lauren Darnell
(see all)