We Have Goats, a strategy tile-laying game, is returning to Kickstarter, and it's better than ever. The game first launched in 2015 on Kickstarter and was a sold-out hit. In the years since the original run, the developers have worked hard to enhance the artwork, resize the cards and fine-tune the gameplay. 
The Basics
Let's get down to the basics. We Have Goats is a strategy game that plays like Carcassonne meets the over-the-top humor of Exploding Kittens. This makes it highly accessible for less experienced players yet provides enough strategy options to entertain experienced board game players. 
RELATED: 8 Tabletop Games You Can Learn at a Party 
Each game plays out differently, depending on the group you are with, but the structure of the gameplay is the same. Players will start with a blank board and some lost goats in need of guidance. You'll work to build a path for your goats, one each turn, while outwitting your opponent(s). 
During your turn, you will also want to try to bank up some Hoofbucks. These are in-game points that allow you to use your unique goat powers to make your opponent have a baaaaaadd day. These goated powers are the key to turning the tide when you are behind. 
RELATED: Top 5 Best Expansions and Scenerios for Catan
Why Should You Back on Kickstarter?
So why should you back We Have Goats on Kickstarter? Collecting board games is a famously expensive hobby but I was pleasantly surprised to see the base game is available for only $25. This is a great price for the replayability that is offered with We Have Goats, but even the add-ons are reasonably priced, especially for a proven game concept. 
These campaigns are all or nothing and are only open for a limited time, so being a backer is like reading a comic book run before it gets turned into a movie. Like sure, everyone knows Hellboy now, but you knew about him before it was cool!
RELATED: Encouraging a New Generation of Geeks (and Raising Them)
Game Mechanics: 
Supports 2-4 players
Tile laying/ Strategy Game
Competitive Play 
Playtime: 30-45 minutes
Ready to get your herd in on the action? You can support We Have Goats on Kickstarter today here!
DENY TRUDEL of 12 PARSECS DESIGNS Chats Upcoming Little Worlds Dice Kickstarter and TTRPGs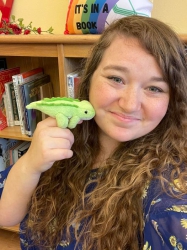 Latest posts by Lauren Darnell
(see all)