As we come to the back half of Supernatural Season 13, the stars have been out doing their annual Supernatural conventions. If you have been to one of these events, then you know how wonderful these events are. They are truly a celebration of all things Supernatural and the stars, specifically Jensen Ackles (Dean Winchester), Jared Padalecki (Sam Winchester), and Misha Collins (Castiel) have always been appreciative of the fans that attend. But while the fans are enjoying the panels, merch sellers, and photo-ops, there is one aspect of these conventions that make them truly enjoyable: the concert.
At each convention, the band Louden Swain, fronted by Supernatural actor Rob Benedict (Chuck/God) hold a concert. During these concerts they sing covers of popular rock songs, usually songs that are played on the show and they are always joined by the cast members at some point. In previous years Mark Sheppard (Crowley) sat behind the drums, and Osric Chau (Kevin Tran) and Gil McKinney (young Henry Winchester) lent their singing voices. And then there's Jensen Ackles.
RELATED: Bobby Singer Returns to Supernatural in "Good Intentions"
Ackles has been a staple at these concerts and with good reason: he is an incredible singer. So it was no surprise when he joined Louden Swain last week at VegasCon 2018 to sing a couple of songs. His first one was "Whipping Post" by The Allman Brothers and his second song was "Wanted Dead or Alive" by Bon Jovi. This time; however, he was joined on stage by none other than Corey Taylor, the front man of the bands Slipknot and Stone Sour.
For those who follow Corey Taylor, we know that he is a major geek and coffee aficionado. How geek is he? Well he does have an acting credit on Doctor Who; he was the Roar of the Fisher King in the Season 9 episode "Before the Flood." He also has expressed his love for Harry Potter, comic books, and has a crazy memorabilia collection.
To see him join Ackles on stage for "Wanted Dead or Alive" is an absolutely dream for anyone who has followed them. You can see their performance below and dream of a possible Taylor/Ackles acoustic tour.
[Video starts at 6 minutes]
[Video courtesy of IRTRAVEL]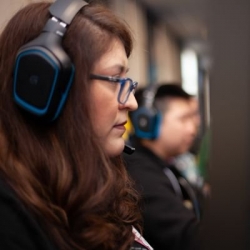 Latest posts by Renee Lopez
(see all)