We are getting closer to the premiere of Castlevania and just recently Executive Producer Adi Shankar and actor Graham McTavish revealed the talented voice cast for the series.
The show, which follows the storyline of the 1989 classic Castlevania III: Dracula's Curse, will feature prolific actor McTavish (Preacher, Call of Duty: Modern Warfare) as Dracula. Joining him will be Richard Armitage (Thorin in The Hobbit trilogy, Hannibal) as the vampire hunter Trevor Belmont, and James Callis (Gaius Baltar on Battlestar Galactica) as Alucard, Dracula's son, who joins Trevor on the mission to hunt down Dracula.
Trevor Belmont and Alucard will not be alone in the fight, however.  Alejandra Reynoso (Winx Club series) will voice the sorceress Sypha Belnades.  Emily Swallow, who played Amara (aka the Darkness) in season 11 of Supernatural, will be voicing Lisa Tepes, Dracula's wife and Alucard's mother.
Matt Frewer (Max Headroom, Timeless, Orphan Black), also known as the actor who you see in almost everything but never realized it, will be voicing the character known as The Bishop, and Tony Amendola (Stargate SG:1, Once Upon a Time) will voice The Elder.
While Dracula, Trevor, Alucard, Lisa, and Sypha are all from the original game, the characters of The Bishop and The Elder are not. It could be that these two were created for the series and have no ties to the Castlevania lore. It's difficult to tell, with such general names, which sides they will be on, but we'll find out soon enough.
Part 1 of Season 1 of Castlevania will be available on Netflix on July 7th. You can watch the voice cast announcement video below.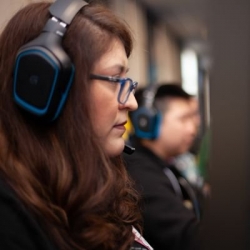 Latest posts by Renee Lopez
(see all)