May is AAPI Heritage Month, so we want to highlight great Asian American and Pacific Islander-created games that you can play right now. Even though the Asian Pacific market and influence dominate the video game industry, especially technologically, they are still critically underrepresented in media. Asian American households own more video game-related products than the entire US population (read more here). 
Here's our list of AAPI-created video games that should be on your radar!
Sable
Sable is an open-world exploration video game developed by Shedworks and published by Raw Fury. You'll guide Sable through her Gliding, a rite of passage that'll take her on an unforgettable journey. The story is by Meg Jayanth, who is Indian, and the music is composed by Japanese Breakfast, a band headed by Korean-American Michelle Zauner.
This game is gorgeous, moving and thoughtfully put together, reminding me in many ways of Journey. If you have Game Pass, you are in luck, as this fantastic title is on it!
You can play Sable on Xbox One, Xbox Series X and PC.
Rakuen
Rakuen is a 2017 adventure video game created by Laura Shigihara. It was built using the RPG Maker XP engine and released on May 10, 2017. It is a sprite-based exploration game in which text boxes serve as the primary conduit for communication. The name "Rakuen" means "paradise" in Japanese. This is a heartwarming game with a genuinely sensational soundtrack, a coming-of-age story with deep familial themes.
Rakuen can be played on PC.
Hoa
Hoa is created by Skrollcat Studio, drawing heavy inspiration from Vietnamese art and culture. It is a beautiful puzzle-platforming game featuring breathtaking hand-painted art, lovely music and a peaceful, relaxing atmosphere. It reminds me of a Studio Ghibli film with the overall vibe and gorgeous art direction.
RELATED: In Praise of Horizon: Forbidden West's Women of Science
In Hoa, you will experience the magic of nature and imagination as you play the main character on her journey through breathtaking environments back to where it all began. 
Hoa is available on PC, the Nintendo Switch, PlayStation 4, PlayStation 5, Xbox One and Xbox Series X.
Into the Breach
Into the Breach is a 2018 release that feels like it is straight out of the '90s. It's a turn-based strategy video game developed and published by indie studio Subset Games. Into the Breach is the brainchild of Chinese and Taiwanese-American artist and video game designer Justin Ma and his Subset Games partner, Matthew Davis. This gameplay is very tight and can be challenging in certain areas, so be ready for that.
Into the Breach is available on PC and the Nintendo Switch.
Raji: An Ancient Epic
Raji: An Ancient Epic is developed by Nodding Heads Games based in Pune, Maharashtra, India. That makes them the perfect folks to make an action-adventure game set in ancient India.
In this AAPI-created video game, you will play a young girl named Raji, who the gods have chosen to stand against the demonic invasion of the human realm. Her destiny? To rescue her younger brother and face the demon lord Mahabalasura. This game boasts an incredible narrative story, compelling gameplay and stunning visuals.
Raji: An Ancient Epic is available on PC, PS4, Xbox One and the Nintendo Switch.
Sunset Overdrive
Sunset Overdrive might not be made by an AAPI-run studio, but the art is. The artwork for this game is by Jacinda Chew, who is not only the Insomniac Games' Senior Art Director but also did art design for games like Marvel's Spider-Man and Ratchet and Clank: Tools of Destruction. This game is a vibrant (and violent), post-apocalyptic open-world game that fans of games like the Borderlands series will love. 
Sunset Overdrive is available on PC and Xbox One.
Have you played any of these AAPI-created video games yet? Which ones will you be adding to your list? Share with us in the comments; we love to hear from you gamers!
8 Asian American Writers That Should Be on Your Reading List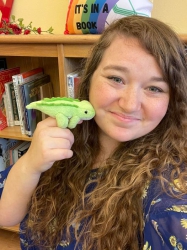 Latest posts by Lauren Darnell
(see all)