On November 11th, Veteran's Day, we honor the brave men and women who have served, and are currently serving, in the United States Armed Forces. As we give thanks to their service, we also wanted to acknowledge those who not only served in our military but have made  a creative impact in pop culture, specifically in genre culture. These are people who could have started out in Hollywood or New York to pursue their careers, but instead, they chose a more difficult path.
So, who in our beloved geekdom wore the uniform? Scroll down and find out.
Adam Driver
It is no secret that Adam Driver, who plays the villainous (but likeable?) Kylo Ren in the current Star Wars trilogy, served in the U.S. Marine Corps after the events of 9/11. He served for over two years before being medically discharged. Since then, he has starred in Lincoln, This Is Where I Leave You, and the HBO series, Girls, among others.
Adam is still very active in speaking out for Veteran issues and he heads the non-profit Arts in the Armed Forces, whose goal is to "provide high-quality theater programming for active duty service members, veterans, military support staff and their families."
James Earl Jones
Remaining in the galaxy far, far away, the iconic voice of Star Wars' Darth Vader, James Earl Jones, also served in the U.S. Army during the Korean War. While he never saw combat, he was promoted to first lieutenant before being discharged. His other notable acting credits include, The Lion King, Conan the Barbarian, Coming to America, and The Sandlot. In all, he has over 190 acting credits to his name and he continues to act; you will soon see him in the live-action version of The Lion King where he will reprise his role as Mufasa.
Morgan Freeman
As the voice you want to narrate your life, Morgan Freeman enlisted in the U.S. Air Force in 1955 where he served as a radar technician. He stayed in the USAF for over three years, and even though he had the opportunity to train as a fighter pilot, he decided to leave the Air Force and pursue an acting career.
Morgan Freeman is a staple in the pop culture world, taking on roles like Lucius Fox in the Christopher Nolan Batman movies, Vitruvius in The Lego Movie, and the narrator in War of the Worlds. You'll be able to see him in multiple movies including Powell, and Angel Has Fallen in the upcoming year.
Rob Riggle
Known as a comedian and a former correspondent on The Daily Show, many also know Rob Riggle as a former U.S. Marine. Having served in the Marine Corp for over 20 years, he remained a reservist well into his acting career. He retired from the USMC in 2013 with the rank of lieutenant colonel.
Rob Riggle started his acting career in the Upright Citizen's Brigade TV series, and since then he has had roles in Chuck, Modern Family, The League, Golan the Insatiable, among many, many others.
Bea Arthur
The late Bea Arthur, Dorothy on The Golden Girls, not only brought laughs to thousands of households during The Golden Girls run, but she also served in the U.S. Marine Corp Women's Reserve. While she was there she drove military trucks and was a typist. She was honorably discharged in 1945, earning the rank of staff sergeant. After that, she enrolled in drama school in New York and starred on Broadway. She had a guest role in the sitcom All in the Family before getting her own spinoff show, Maude. From there she went on to star in The Golden Girls and many other shows. Bea Arthur also did voice work for Futurama, and guest starred in Curb Your Enthusiasm and Malcolm in the Middle. And let's never forget her role as the brassy bartender Ackmena in the Star Wars Holiday Special!
Leonard Nimoy

    

   
It may surprise some people to know that beloved actor Leonard Nimoy, Spock from the original Star Trek series, was an enlisted Army man in the early 1950s. He served for two years and earned the rank of technician 3rd grade.
Leonard Nimoy is the quintessential pop and genre culture icon. After starring in the Star Trek Original series, he took on roles in other pop culture favorites like Fringe, The Big Bang Theory, Futurama, Mission: Impossible the TV series, The Outer Limits, and Family Guy. He also starred in most of the old and new Star Trek movies, and voiced Spock in the Star Trek Online video game.
DeForest Kelley
Before he took on the role of Leonard "Bones" McCoy in the original Star Trek series, DeForest Kelley served in the U.S. Army Air Corps from 1943-1946 during WWII. While he did not see any combat during WWII, he helped to make military training films. He earned the rank of private first class before being discharged.
After the Army, DeForest Kelley went on to star in a lot of westerns before landing the role in Star Trek. After that he reprised his role as Dr. McCoy in all six Star Trek movies, and guest starred on the pilot episode of Star Trek: The Next Generation. He also did the voice of Dr. McCoy in Star Trek: 25th Anniversary Enhanced and Star Trek: Judgment Rites video games.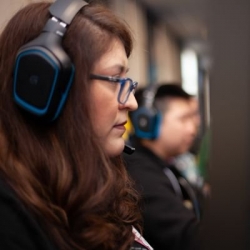 Latest posts by Renee Lopez
(see all)