This past Sunday, Stockholm-based game publisher Paradox Interactive revealed that the special Collector's Edition of Vampire: The Masquerade – Bloodlines 2 is now available for pre-order! Geek Girl Authority takes a look at these collector's items.
The Vampire: The Masquerade – Bloodlines 2 Collector's Edition includes a poster map of Seattle (marking all the notable locations and faction domains), a steelbook case, a 28 cm. resin statue of Elif, the game's soundtrack on a 7″ vinyl, and a digital download PDF of the Vampire: The Masquerade, 5th Edition corebook (for the tabletop role-playing game that Bloodlines 2 is based on).
RELATED: Gamescom 2019: VAMPIRE: THE MASQUERADE – BLOODLINES 2 Trailer Gives More Shadowy Glimpses of Seattle's World of Darkness
Elif Parmak is a European (assumed to be Turkish) vampire and a member of a group of Clan Tremere who recently relocated to Seattle's University District. These "Newcomers" are blood warlocks led by Professor Viktor Goga, and Elif is Goga's right hand.
The Collector's Edition standalone is 109,99 euros (roughly $123.86 in U.S. dollars). For the Collector's Edition with the video game, the price goes up to 169,99 EUR (roughly $191.42).
Bloodlines 2 has yet to announce an official release date, though the game has been confirmed for a release sometime in 2020 for PlayStation 4, Xbox One, and PC.
What do you think? Are you ready to ring in the New Year by bleeding Seattle dry? Geek Girl Authority is ready to descend into a World of Darkness for more news about Bloodlines 2 and all your most-anticipated video games!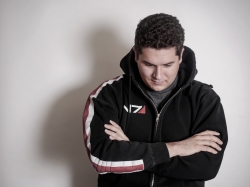 Latest posts by Tyler Boyce
(see all)