That's right, we have our another look at Universal Pictures' Jurassic World Dominion ahead of its summer release. The first trailer we got focused heavily on the star-studded cast. It gave us a look at Chris Pratt and Bryce Dallas Howard being joined by Laura Dern, Jeff Goldblum and Sam Neill in a breathtaking new adventure that spans the globe. From Jurassic World architect and director Colin Trevorrow, Jurassic World Dominion takes place four years after Isla Nublar has been destroyed.
Dinosaurs now live—and hunt—alongside humans all over the world. This fragile balance will reshape the future and determine, once and for all, whether human beings are to remain the apex predators on a planet. 
RELATED: Check Out These Jurassic World Dominion Exclusives from LEGO and Mattel 
Don't get me wrong, I totally freaked to see the original cast I grew up with. But the new trailer gives the audience better insight into the plot. Namely that it seems like there will be two plots happening on-screen congruently. The first will follow the new generation cast, as Pratt works to find Blue's offspring which we see get trapped in this new trailer. This is going to be the major inciting event for Pratt's character Owen as this has finally broken the bond between him and Blue.
She feels betrayed and lashes out at the signature "calming hand" motion he uses when taming dinosaurs. This is also going to force him out of his location to meet up with the older generation, as Dr. Grant has rejoined his previous cast members to try to stop the dinosaur rampages now happening across the globe. We see a shot at the end where Owen, Dr. Grant and Dr. Malcom are all together so it is safe to say we will see these two converging storylines blend towards the end of the movie. 
Finally, we also get a better look at DeWanda Wise's character Kayla Watts. She is a pilot who is set to work closely with the series's veterans in some of the most dangerous, most intense moments. We hope to see her out of the pilot seat and on the ground more in the movie! And speaking of dangerous and intense moments. The trailer for Jurassic World Dominion is packed full of them. From beginning to end, it seems the film will have us on the edge of our seats.
Jurassic World Dominion will be hitting theatres everywhere on June 10, 2022. After you watch the new trailer how will you be prepping for the launch? Movie marathon? Dinosaur survival training? Tell us in the comments below and on social media!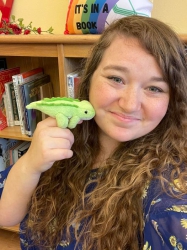 Latest posts by Lauren Darnell
(see all)