Today winners of the BAFTA Games Awards, held in Tobacco Dock, London, were announced and we had some familiar favorites accepting awards.
Naughty Dog's Uncharted 4: A Thief's End won the top prize, claiming Best Game honors over INSIDE, Firewatch, Overwatch, Stardew Valley and Titanfall 2.  The final game of the Nathan Drake series has garnered many awards this year and it's not surprising, it's an excellent game. Danish developer PlayDead's puzzle-platformer adventure, INSIDE, picked up 4 awards including Game Design, Narrative, Artistic Achievement, and Original Property. Cooking simulator, Overcooked, took home British Game and Family awards and Firewatch won Debut Game and Performer for voice actress Cissy Jones (Delilah).
Virginia, Rocket League, Overwatch, Pokémon Go, The Last Guardian and That Dragon, Cancer also won awards. Clash Royale won AMD eSports Audience Award, beating eSports favorites Counter-Strike: Global Offensive, Dota 2, League of Legends, Overwatch and Street Fighter V.
The BAFTA Ones to Watch Award, showcasing the best in games development and design talent, went to Among the Stones, a 3D Platform game created by student developers from Abertay University.
Game designer and artist Brenda Romero received the Special Award for her contribution to the gaming industry, her advocacy for the creative process behind game design and "her commitment to encouraging the next generation of talent in the industry." Romero has worked on over 40 games including Wizardry and the Jagged Alliance series, Def Jam, Ghost Recon and Dungeon & Dragons.
Below are the 2017 Winners of the BAFTA Game Awards
Best Game
Firewatch
INSIDE
Overwatch
Stardew Valley
Titanfall 2
WINNER – Uncharted 4: A Thief's End
British Game
Batman: Arkham VR
Forza Horizon 3
No Man's Sky
WINNER – Overcooked
Planet Coaster
Virginia
Game Design
Battlefield 1
Dishonored 2
WINNER – INSIDE
Overwatch
Titanfall 2
The Witness
Game Innovation
Batman: Arkham VR
Firewatch
Pokémon GO
WINNER – That Dragon, Cancer
Unseen Diplomacy
The Witness
Narrative
Dishonored 2
Firewatch
WINNER – INSIDE
Mafia III
Oxenfree
Uncharted 4: A Thief's End
Artistic Achievement
ABZÛ
Dishonored 2
WINNER – INSIDE
The Last Guardian
Uncharted 4
Unravel
Audio Achievement
Battlefield 1
DOOM
INSIDE
WINNER – The Last Guardian
Rez Infinite
Uncharted 4
Debut Game
WINNER – Firewatch
Overcooked
Oxenfree
That Dragon, Cancer
The Witness
Virginia
Evolving Game
Destiny: Rise of Iron
Elite Dangerous: Horizons
EVE Online
Final Fantasy XIV: Online
Hitman
WINNER – Rocket League
Family
LEGO Star Wars: The Force Awakens

WINNER – Overcooked

THE PLAYROOM VR

Pokémon GO

Ratchet & Clank

Toca Hair Salon
Mobile
The Banner Saga 2

Dawn of Titans

Deus Ex GO

WINNER – Pokémon GO

Pokémon Sun and Pokémon Moon

Reigns 
Multiplayer
Battlefield 1
Forza Horizon 3
Overcooked
WINNER – Overwatch
Titanfall 2
Tom Clancy's The Division 
Music
ABZÛ
DOOM
INSIDE
The Last Guardian
Uncharted 4
WINNER – Virginia 
Original Property
Firewatch
WINNER – INSIDE
The Last Guardian
Overwatch
Unravel
The Witness
Performer
Alex Hernandez – Mafia III (Lincoln Clay)
WINNER – Cissy Jones – Firewatch (Delilah)
Emily Rose – Uncharted 4 (Elena Fisher)
Navid Negahban – 1979 Revolution: Black Friday ('Hajj Agha')
Nolan North – Uncharted 4 (Nathan Drake)
Troy Baker – Uncharted 4 (Sam Drake)
AMD eSports Audience Award
WINNER – Clash Royale
Counter-Strike: Global Offensive
Dota 2
League of Legends
Overwatch
Street Fighter V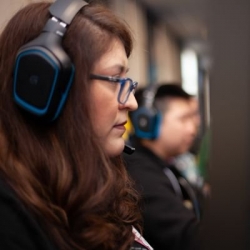 Latest posts by Renee Lopez
(see all)