It's been a while since we last saw the Man of Steel in National City, but E! has just revealed that Tyler Hoechlin will be returning for the Supergirl Season 2 finale.
While we don't have any story details just yet, we can speculate that his return might have something to do with Cadmus, LCorp, or the Luthors. When we last saw him, Superman helped Supergirl (Melissa Benoist) deal with the spacecraft, The Venture, as it came crashing down to Earth in Season 2 Episode 1, "The Adventures of Supergirl." He then stayed on for another episode, "The Last Children of Krypton," to help Supergirl and the DEO go up against Cadmus and Metallo. At the end of the episode Superman went back to Metropolis.
There were some concerns early on about bringing in a new Superman to the DC television universe, but after his appearance, Hoechlin received very positive reviews on his portrayal of Superman.
According to the E! exclusive, executive producer Andrew Kriesberg was hoping to bring back Hoechlin at some point but not in a way that would overshadow Supergirl's presence or diminish her influence in National City. "We very cognizant of not wanting him to come in and steal her thunder, so this Superman that we designed was something that you really haven't seen too much of," Kreisberg said in a previous interview. "Usually when you see Superman, even when it's in the Christopher Reeve movie or Man of Steel or Lois & Clark, he's just starting out and we wanted to show Superman who's been doing this for a decade and has gotten really, really good at it."
Kriesberg also added, "He was really coming in as a supporting character for Kara, to be a friend and a cousin and a mentor. We simultaneously wanted to have a Superman who was relatable and fun and sort of everything that you remember about Superman from your childhood that was great, while also, at the same time, de-mystifying him a little bit."
Supergirl returns April 24th at 8pm PST/EST on The CW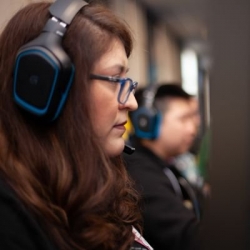 Latest posts by Renee Lopez
(see all)