We are officially a week away from the premiere of the much anticipated Justice League movie and today ReySoundtrack released the soundtrack by Danny Elfman.
Justice League will bring together the scions of the DC Universe: Batman (Ben Affleck), Wonder Woman (Gal Gadot), The Flash (Ezra Miller), Cyborg (Ray Fisher), and Aquaman (Jason Momoa) as they team up to fight a devastating threat.
You might remember that the original composer of the Justice League soundtrack was Junkie XL, but according to ComicBook.com when Joss Whedon replaced Zack Snyder as the director, he also replaced Junkie XL with Danny Elfman.
RELATED: Listen to the Absolutely Epic JUSTICE LEAGUE Hero Theme By Danny Elfman
Danny Elfman is an accomplished composer, having scored notable movies such as Batman, Avengers: Age of Ultron, the Men in Black trilogy, Spider-Man, Spider-Man II and almost every single Tim Burton movie. In listening to the soundtrack, there are unmistakable hints of Batman and Avengers: Age of Ultron influences and I love it. 
***Spoiler Warning***
Below is the track listing for the soundtrack and here is your official warning. If you don't want spoilers, then you might want to click on another post because this soundtrack listing is about to give away some plot points.
"Everybody Knows"
"The Justice League Theme – Logos"
"Hero's Theme"
"Batman on the Roof"
"Enter Cyborg"
"Wonder Woman Rescue"
"Hippolyta's Arrow"
"The Story of Steppenwolf"
"The Amazon Mother Box"
"Cyborg Meets Diana"
"Aquaman in Atlantis"
"Then There Were Three"
"The Tunnel Fight"
"The World Needs Superman"
"Spark of The Flash"
"Friends and Foes"
"Justice League United"
"Home"
"Bruce and Diana"
"The Final Battle"
"A New Hope"
"Anti-Hero's Theme"
"Come Together"
"Icky Thump"
"The Tunnel Fight" (Full Length Bonus Track)
"The Final Battle" (Full Length Bonus Track)
"Mother Russia" (Bonus Track)
You can hear all of the songs in the YouTube video below. The only song that is not available is "Icky Thump" for copyright reasons (it is a White Stripes song). And if you were wondering, in the song "Friends and Foes" there is version of the John Williams' Superman score.
Justice League comes to theaters on November 17th!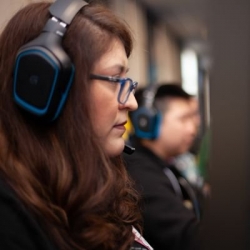 Latest posts by Renee Lopez
(see all)