As 2017 comes to end, it's time to look ahead at our most anticipated games of 2018. From God of War to Kingdom Hearts 3, these are the games that the GGA Video Games staff will be looking forward to in the new year.
Red Dead Redemption 2
Developer: Rockstar Games
Publisher: Rockstar Games
Release Date: Spring 2018
After its initial announcement in 2016, gamers could not wait to hear more about the upcoming Rockstar game. Originally scheduled for release at the end of this year, Red Dead Redemption 2 was pushed to 2018. The official release date has not been revealed, but expect it to come out sometime in Spring 2018 for the PlayStation 4 and Xbox One.
The story is a prequel to Red Dead Redemption and it follows the life of Arthur Morgan and his ties with the Van der Linde gang. If you have seen the trailers or the screenshots, then you know that players will be in for an epic adventure in the Old West where lawlessness is a necessity to survive.
You can find out more about the game on the Rockstar Games website.
Related: Watch the Exciting New Trailer for Red Dead Redemption 2
Sea of Thieves
Developer: Rare
Publisher: Microsoft Studios
Release Date: March 20, 2018
Arr, there be pirates everywhere! If you ever wanted to sail the seven seas while plundering your way to riches and glory, then Sea of Thieves is the game for you. It's a co-operative multiplayer game set in a vast open-world where friends can band together to live the pirate's life.
What is unique about this game, other than the fact that you can be a pirate, is that the world is shared among Xbox devices and Windows 10. So regardless of what you're playing on, you can get in on all the fun with your friends.
With epic voyages, buried treasures, and an endless sea of possibilities, Sea of Thieves is set to be a success story of 2018.
For more information, check out the game's website and watch the date announcement trailer below.
Detroit: Become Human
Developer: Quantic Dream
Publisher: Sony Interactive
Release Date: TBD 2018
Futuristic stories have always had a special place in our hearts. Most of them tell of a dystopia where androids are on the rise, a powerful enemy is threatening existence, or people are being disenfranchised and hope is but a dream.
In Detroit: Become Human, you see the world through the eyes of an android, Kara, as she tries to find her place in near future Detroit. What is amazing about this game is that all the decision you make impact not only your personal story, but the fate of the city. There is an abundance of different ways to approach problems, and each decision will have their own consequences.
If you haven't seen the latest trailer, you should. It perfectly encapsulates what this game is all about and how even the smallest decisions can affect so many lives.
There is no release date for the game, but it will be out in 2018 for the PlayStation 4. For more information check out the website.
Related: New Detroit: Become Human Trailer Shows Us the Impact of Our Decisions
Spider-Man
Developer: Insomniac Games
Publisher: Sony Interactive
Release Date: Early 2018
Spider-Man has been receiving a lot of love lately on the big screen so it's no surprise that we will be getting a new Spider-Man game in 2018.
Teaming up with Marvel, Insomniac Games is bringing us an all-new original adventure featuring Peter Parker's Spider-Man. In the game, players will play as Spider-Man (of course) with all of the spidey powers and acrobatic abilities that we have come to know and love. It is an open-world game, so Spider-Man will be free to web-sling anywhere in the great city of New York.
We'll also see the familiar characters like Aunt May, Osborne, Mary Jane, and Miles Morales and we'll up against a new Big Bad that we have yet to see in the MCU. You can find out more about the game by visiting the website.
You can watch the teaser trailer from the Paris Games Week below to see all the action and adventure this game will have to offer.
Psychonauts 2
Developer: Double Fine
Publisher: Starbreeze Studios
Release Date: TBD 2018
After a successful crowdfunding effort by developer Double Fine in 2015, Psychonauts 2 was finally in development. Now after three long years, it has been confirmed that Psychonauts 2 will be released next year.
The story follows Raz as he goes to Psychonauts Headquarters. Unfortunately, HQ isn't everything it's cracked up to be and Raz must now help new characters in battling their inner demons. In HQ, players will have access to these characters' minds and Raz will be able to use his special PSI-abilities, and acquire new ones.
The game is schedule to be released in 2018, but as to an exact date, it's anyone's guess. You can find out more information by checking out the website or the crowdfunding page on Fig.co. You can also watch the announcement teaser below!
The Last of Us Part II
Developer: Naughty Dog
Publisher: Sony Interactive
Release Date: TBD 2018
The long wait is over. When it was announced a year ago that Naughty Dog was working on the sequel to the outstanding The Last of Us, many gamers, like myself, couldn't believe the good news. After seeing the second teaser trailer at the Paris Game Week, it is clear that The Last of Us Part II is going to be a violent, dismal story of the aftermath of the first game (in a good way).
There has been no word on what Joel and Ellie are up to in the sequel, but by the looks of it, we may not want to know. Hate and anger, fanaticism and religious overtones dominate the feel of the game thus far, which seems like a logical response when the human race is being systematically destroyed by clickers.
In a deep dive video, it was inferred that perhaps we wouldn't be seeing a lot of Joel and Ellie, but rather other key characters. As to when or where this story occurs, it'll be up to the players to decide for now.
A specific release date has not been announced, but it will be sometime in 2018 and it will be a PlayStation 4 exclusive.
Related: New the Last of us Part II Trailer Shows Us a Grim and Violent World 
God of War
Developer: Santa Monica Studios
Publisher: Sony Interactive
Release Date: Early 2018
After spending years steeped in Greek Mythology, the God of War is turning his sights to another mythological universe. After the events in God of War III, Kratos has decided to move on from his Greek roots and go on a personal journey through Norse lands with his son, Atreus.
While we don't know what awaits them on this adventure, based on the gameplay trailer it seems that Kratos has taken his responsibilities as a father to heart, perhaps after his dealings with Zeus.
There hasn't been a lot of updates about the story content, only that Kratos is on an "emotional journey" and this game signals a new beginning for him. A release date has not been announced, but God of War will be available for PlayStation 4 sometime in 2018.
You can learn more about the game by visiting the God of War website.  
Related: Kratos and Son explore the Unknown in the New God of War Gameplay Trailer
Death Stranding
Developer: Kojima Productions
Publisher: Sony Interactive
Release Date: TBD 2018
This might be wishful thinking on my part, but it is believed that Hideo Kojima's next game, Death Stranding, will be released sometime in late 2018. It a past interview he stated that it would be out before the 2020 Olympics, and then went further and said it would be out before the year depicted in the movie Akira (2019), so does that mean a 2018 release? It sure sounds like it.
Regardless of when it is released, this is a much-anticipated game for those who loved Kojima's Metal Gear Solid series, and for fans of Guillermo del Toro, Norman Reedus, and Mads Mikkelsen. At The Games Awards, Kojima presented a new game trailer that gave us more questions than answers. The trailer is stunning and dark and confusing and remarkable. Gamers on social media did their best to understand what exactly what is going on, and Kojima seems to prefer not giving any information on the game. What we do know is that the game is set in the future, at a time when mankind is at the brink of extinction, and Earth is being overrun with aliens from above and weird creatures from below (maybe?).
Death Stranding will only be a PlayStation 4 exclusive when it released.
Related: Intense Death Stranding Trailer is Unnerving and Stunning
Anthem
Developer: BioWare
Publisher: Electronic Arts
Release Date: Fall 2018
When Anthem was announced at E3 2017, many people called it BioWare's answer to Destiny 2 and that may very well be true. Set in a futuristic setting á la Mass Effect, Anthem puts players inside a Javelin, an overpowered exosuit that makes it possible to brave the wilds beyond The Wall.
Anthem has also been thought to be the cause for the lack of any single-player Mass Effect: Andromeda DLC. The graphics and the gameplay look similar to Mass Effect, with a pinch of Destiny 2. It also helps that the writer for the game is Drew Karpyshyn, a recognizable name in the Mass Effect, Knights of the Old Republic and Dragon Age circles. Needless to say, the game story is in very capable hands.
Like other games on this list, not much is known about the game's official release date. It is expected to come out in Fall 2018, but we'll see if BioWare is able to keep to that schedule.
You can watch the teaser trailer from E3 2017 below.
Honorable Mentions
Whittling down all the upcoming games to just our top 10 is hard work, so naturally we have to include a short list of honorable mentions including:
We Happy Few
Platform(s): PlayStation 4
Release Date: April 13, 2018
Bloodstained: Ritual of the Night
Platform(s): PlayStation 4, PlayStation Vita, Xbox One, Nintendo Switch, PC, OS X, Linux
Release Date: Early 2018
Far Cry 5
Platform(s): PlayStation 4, Xbox One, PC
Release Date: March 27, 2018
Underworld Ascendant
Platform(s): PC, OS X, Linux
Release Date: TBD 2018
Final Fantasy 7 Remake (Maybe)
Platform(s): PlayStation 4
Release Date: TBD 2018
Moss (VR)
Platform(s): PlayStation 4 VR
Release Date: February 2018
A Place for the Unwilling
Platform(s): PC, OS X
Release Date: TBD 2018
Ni no Kuni II: Revenant Kingdom
Platform(s): PlayStation 4, PC
Release Date: TBD 2018
Soulcalibur 6
Platform(s): PlayStation 4, Xbox One, PC
Release Date: TBD 2018
Pillars of Eternity II: Dreadfire
Platform(s): PC, OS X, Linux
Release Date: TBD 2018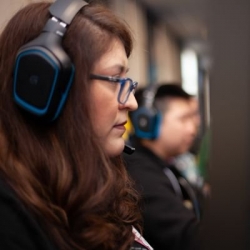 Latest posts by Renee Lopez
(see all)