Stephen King is one of the most renowned horror authors to ever enter the scene and one of his classic stories is the post apocalyptic tale, The Stand. The first edition of the novel came out in 1978. It was so popular that in 1990 a new edition was released. This version earned the words "Complete and uncut" after the title. It also added over three hundred pages to the book.
In 1994, ABC turned The Stand into a four-part television mini-series. Now, almost thirty years later, CBS has created a brand new series based on King's novel. The first episode aired on December 17 and I have a lot to say.
Any time a movie or series gets a reboot, I worry that the story will be ruined. Another concern is that the cast will not live up to the original. The effects will be lacking. I always go in with a bit of apprehension, but I also try to maintain some hope that it will at least be decent.
This is how I approached this new iteration of The Stand, apprehensive but hopeful. In this case, the hope was well justified! During the opening scene, I was immediately riveted. The realism, the intensity, it all worked to create an unforgettable opening. 
My Thoughts
This new version incorporates flashbacks to include the entire story. Under most circumstances, I do not enjoy flashbacks, but for The Stand, it somehow works better than a strict beginning to end progression. There are some stories this style of telling works for and while I would not have guessed it, this is one of them.
Every scene is hard-hitting and has an air of mystery and wonderment. Even though I know the story like the back of my hand, I found myself on the edge of my seat. Wondering what was coming next.
So far, I am incredibly pleased with all of the actors. I felt the cast of the original mini-series was very near perfect so I did not expect to approve of each new actor. Owen Teague who plays Harold Lauder impressed me in particular. His mannerisms and overall look had me second-guessing that it was not really Corin Nemec who played Harold in the original. Also, I dare say I like Odessa Young better as Frannie Goldsmith than Molly Ringwald. I cannot wait to meet the rest of the characters! 
Also, in regards to Frannie, I think her portrayal in this version is far more accurate to the way Stephen King wrote the character in The Stand. She is incredibly tough and strong. I don't think that always came through in Molly Ringwald's version of the character.
RELATED: Hulu Cancels Castle Rock After Season 2
The direction is fantastic. Each scene is set up in such a way as to provide the ultimate intensity. While I was impressed with each new scene, one of my absolute favorites was the introduction of Randall Flagg (Alexander Skarsgård). It was equally terrifying and mysterious.
Conclusion
To sum up my feelings, I am beyond thrilled with this first episode! I am biting my nails waiting for the next one! I am giving it a solid five stars! If you have not yet watched it, what are you waiting for?? Make your stand! If you have watched, let me know your thoughts in the comments!  
CBS has thoroughly impressed me so far with their version of The Stand. As Tom Cullen would say, M-O-O-N, that spells awesome!
The Stand streams on CBS All Access with new episodes arriving on Fridays.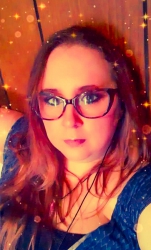 Latest posts by Becca Stalnaker
(see all)