Star Wars fandom is at an all-time high. With The Last Jedi coming out this month and Solo coming out in May, we're in for a wild ride. So why not treat your friends and family (or even treat yo' self) to some Star Wars gifts sure to bring a smile.
Sphero Toys
When Sphero released their BB-8 app enabled droid, the Star Wars fandom and tech geeks alike grinned. You can control a little droid with your phone! Well they've expanded the roster. Not only can you get BB-8, but you can also get R2-D2 and newcomer BB-9E. I got a BB-8 this year for my birthday and I squeed so loudly, I'm pretty sure the neighbors heard me. You can get your own squee-enabling bot priced at $129.00 to $199.00 here or on Amazon. There's sales going on so grab them quick!
Propel Drones
Have a fan in your life but want a more outdoors gift? Look no further than the Propel drones. With an X-Wing, TIE Advanced x1 (Darth Vader's TIE) and a Speeder Bike, you're sure to have fun for hours. These remote control drones are high-flying acrobatics reaching speeds of 30 MPH! All of them are sitting pretty at $149.00 on their website or currently $99 on Amazon. Just be sure not to use them on a windy day!
RELATED: CHRISTMAS 2017: 8 Movies to Get You in the Holiday Spirit
Droid Inventor Kit
Have yourself a little techie who loves to build? This is the gift for them. littleBits has created a build kit so you can make an R2 astro-mech from scratch! The little droid can go on 16+ missions from the app-enabled actions plus be configured for different actions. The customizable bot is great for kids and the kids at heart. It's currently listed at $99.95 on their site and Amazon. 
Food-Makers
Now you're probably looking at your screen in disbelief but yes, Star Wars food makers are hilariously adorable. For example you can make Millennium Falcon shaped waffles on Christmas morning with this product (Yes, please!). Need some popcorn for marathoning all the Star Wars movies? No problem. There's a Death Star popcorn marker. Maybe even character gingerbread cookies? Whatever you think your person would like the most! Because let's be real – food always wins.
Home Fun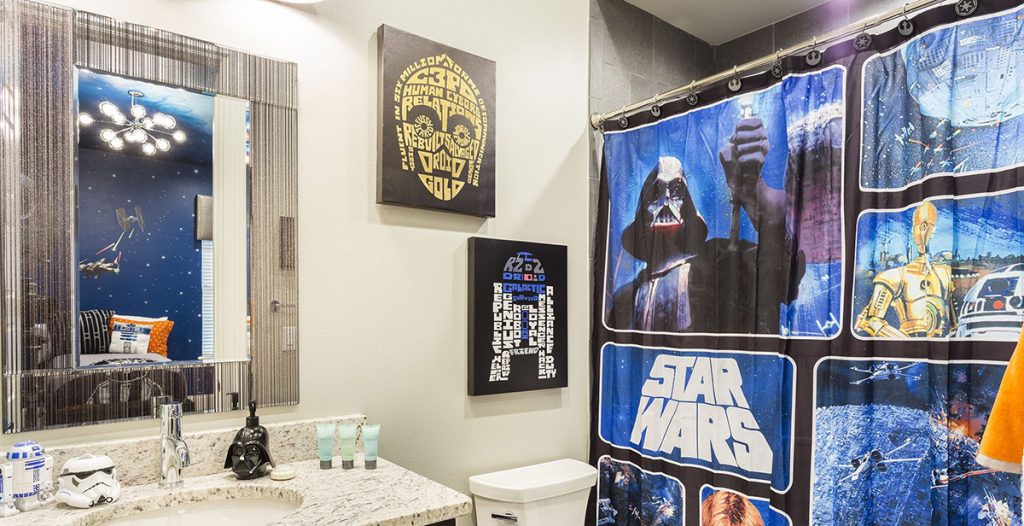 Some of the best gifts are the most useful. Friend been slacking on getting coasters? No problem. Used your travel mug to death? Solved! Still don't have a business card holder? Answered. Maybe it's more simple like needing a calendar. Or maybe when you're over your friends, they never have a serving plate or bowls. Whatever you or giftee needs, there's a Star Wars items out there for it.
RELATED: Things We Learned About STAR WARS: THE LAST JEDI From Toys
Clothes
There's no better way to show off fandom quite like wearing inspired clothing. It's not all t-shirts and lounge pants out there, either! For example: this Men's Solo Polo, or this limited edition Luke Skywalker Hoth jacket are great ways to show off fandom without slapping a logo on your chest. Most fandom-wear has been predominately made for men though, so what can the ladies get? Well! HerUniverse has been catering to fangirls with reasonably priced clothing (frankly I could sing praises about them all day). Such as this adorable porg sweater to show off massive love for the new creature. Or this Rose jacket! Have a young fangirl? How about this lightsaber logo shirt? Or Ahsoka raglan? Fanboys could rock this Darth Vader hat! Or some slippers. Star Wars fashion is some of the best fashion…
Lego
Nothing says childhood and fun quite like Legos. From the small sets to the insanely large sets, there's fun for everyone. They don't put 4-99 on Lego boxes for nothing! For the young who want a quick and easy figure, Microfighters are your best bet. Want something more complicated? Get your hands on the coveted Millennium Falcon from the original trilogy or the new trilogy! Legos are always a blast to build – just make sure no one loses that satellite dish or Han will be upset!
And those are our picks! See anything that peaked your interest? Let us know! Be sure to share your Star Wars holiday gifts with us on Twitter and come back to Geek Girl Authority for more Star Wars and more geek gifts! The Last Jedi is in theaters December 15th, 2017 and Solo is theaters May 25, 2018.
Latest posts by Erin Lynch
(see all)