With most (if not all) people self-isolating and quarantined in their homes, many have turned to reading and streaming to fill the time. Comic books are no exception, and Dark Horse Comics has decided to use the situation to stage a sort-of reunion for The Legend of Korra. Dark Horse announced on Twitter that this Monday (April 6, 2020) at 2:00 pm PST, voice actors Janet Varney (Avatar Korra) and Seychelle Gabriel (Asami Sato) will be live-streaming a reading of the comic The Legend of Korra: Turf Wars – Part One!
The story of Avatar: The Last Airbender (which celebrated its 15th anniversary earlier this year) was continued with not only a sequel series in The Legend of Korra, but also comics from Dark Horse that acted as an immediate epilogue for Avatar Aang and his friends. Korra is no exception, as Turf Wars begins her own epilogue. For those unfamiliar or in need of a refresher, The Legend of Korra ended with Avatar Korra defeating (and ironically, saving) the Earth Empire dictator Kuvira as she attempted to invade and annex the United Republic. To celebrate their victory, Korra and her new girlfriend Asami decide to take a vacation into the Spirit World.
Turf Wars begins immediately after Korra and Asami return from the Spirit World, finding Republic City in the middle of political crisis, and a new conflict brewing between humans and spirits. As the bridge between the Material World and the Spirit World, Avatar Korra must stop humanity from severing its already tumultuous connection with the spirits.
RELATED: Comic Review: RUINS OF THE EMPIRE – Avatar Korra Faces Social Paradigms and a New Villain
Turf Wars and the other comics are particularly noted for being more overt and expressive about the romantic relationship between Korra and Asami. Though the TV series ended with Korra and Asami being shown as openly bisexual and undeniably together in a romantic way, it was never visually expressed more than holding hands and lovingly looking into each other's eyes. Without the constraints of Nickelodeon and general children's television restrictions regarding depicting LGBTQ characters, the comics are given more flexibility and allowed to be more blatant about queer themes. Such themes in Part One alone include Korra and Asami coming out to their families and friends, as well as showing the couple's first kiss.
Needless to say, having these inclusive moments portrayed live by the actual actors for the characters is an exciting event! It will be happening this Monday, April 6th at 2:00 pm Pacific at twitch.tv/DarkHorseComics. If you can't watch live for whatever reason, consider ordering your own copy of Turf Wars from your Friendly Neighborhood Comic Book Store, Amazon, or Kindle and Comixology.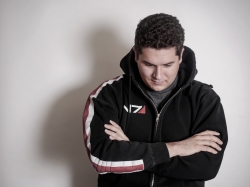 Latest posts by Tyler Boyce
(see all)