On March 31, 1998 a unique science fiction real-time strategy (RTS) game was released by Blizzard Entertainment called StarCraft. It soon became the best-selling game that year, and effectively made Blizzard into the developer juggernaut that it is today.
The legacy of StarCraft is one that most critics and fans will not deny. Even though it utilized the Warcraft II engine, it was not a "WarCraft in space" game. The unique story, distinct factions, and balanced gameplay made it attractive to players all over the world. Of course, no one could have predicted its massive popularity in South Korea or its future impact in esports.
Throughout the month of March Blizzard will be celebrating this monumental game with in-game goodies, Twitch loot, and the release of a new short film, StarCraft is Life: A 20th Anniversary Celebration on March 31st. This film will include interviews with prominent players who will discuss how StarCraft impacted their lives.
Twitch
According to a Twitch blog post, on March 30 and 31 there will also be a StarCraft Anniversary Livestream on their Twitch channel. This livestream will feature prominent StarCraft figures as well as different game types including 2v2, 3v3, 4v4 and free-for-alls.
During this livestream viewers will earn a commemorative console skin and if they tune into other StarCraft Twitch events throughout the month, they can receive even more goodies.
There will be new emotes so viewers can show their Protoss, Terran, and Zerg love.
From March 6 to April 6 if viewers watch any StarCraft, StarCraft: Remastered, or StarCraft II stream for two cumulative hours on Twitch, they will earn the Bob Toss item bundle which includes a new portrait, spray and emoji.
Viewers will also be able to earn in-game drops if they link their Battle.net account with their Twitch account. These can be earned by either streaming the game or watching a stream.
There will also be a StarCraft II Achievement Hunt Marathon which will pit 8 top StarCraft broadcasters to compete in an achievement hunting event. These achievements can be unlocked across StarCraft II: Wings of Liberty, Heart of the Swarm, or Legacy of the Void and it must be streamed. The winner will win $25,000.
In addition, there will be both a StarCraft II and a StarCraft Remastered showdown which will each feature 8 of the best players from Europe and North America in a "winner take all format" prize pool. And to top it off, there will be a StarCraft FFA Bounty Brawl Series.
In-Game Goodies
The anniversary celebration would not be complete if it didn't span across all of Blizzard games.
StarCraft II
If you log into StarCraft II you will earn remastered Terran, Zerg, and Protoss console skins, a 20 Years of StarCraft portrait, 20 Years of StarCraft login achievement, and 20 Years of Terran, Zerg, and Protoss decals. Select items will also be on sale from now until March 20th.
StarCraft Remastered
If you log into StarCraft Remastered you will earn a new console skin for the game. The game will also be on same from now until March 20th.
Heroes of the Storm
When you log into Heroes of the Storm you will earn a Protoss, Zerg, and Terran portrait. There will also be StarCraft-themed brawls that you can participate in and a new StarCraft hero will be announced soon.
Diablo III
Players logging into Diablo III will get a new Battlecruiser pet.
World of Warcraft
When WoW players /salute any of the StarCraft-themed companion pets, Zergling, Grunty, Mini Thor, Baneling, or Zerador, they will be announced in game for all to see.
Overwatch
Widowmaker will be getting a new Kerrgian Ghost skin in Overwatch.
Hearthstone
There will be a new StarCraft-themed Tavern Brawl coming to Hearthstone later this month.
For more information on the StarCraft celebrations you can check out the StarCraft website. You can also watch the celebratory video below and some nostalgic images in the Gallery.
Gallery
[Images and screenshots courtesy of Twitch and Blizzard Entertainment]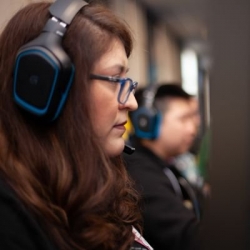 Latest posts by Renee Lopez
(see all)