The trailer for the upcoming Fruits Basket- Prelude movie has finally arrived. It is the emotional conclusion to the beloved 2019 romance and drama anime series Fruits Basket that tells the story of Toru Honda's (Laura Bailey) parents. That's because before there was Toru and Kyo, there was Kyoko and Katsuya. 
Debuting for the first time outside of Japan, the prequel film is a standalone story that will take fans back before Tohru became involved with the Soma family. The family members can turn into Zodiac animals when hugged by the opposite sex. The film dives into the life of her parents, Kyoto and Katsuya Honda, before they tragically die. 
RELATED: Anime Roundup: All the New Shows Coming Out in June
The Fruits Basket- Prelude movie trailer starts by reintroducing us to Kyoto (Lydia Mackay) in her "Red Butterfly" era. Kyoto was hell on wheels before she resigned to the quiet life as a mother and wife. She is a prominent member of a youth motorcycle gang. The trailer reveals that she's getting into fights, disobeying her parents and skipping school. 
That is until she meets Katsuya Honda (J. Michael Tatum), who isn't afraid of her rebellious nature. Kyoto is drawn to him and begins regularly attending school against the wishes of her fellow gang members. Fruits Basket- Prelude will shine a light on how Kyoto leaves behind her dark past and escapes gang life. 
I'm excited to see more of Turo's father as he is the parent we hear the least about in the series since he died when Turo was so small. I'm also curious to see how Katsuya compares to Kyo (Jerry Jewell) and if Toru inherited her taste in men from her mother. Unfortunately, we all know that their stories don't have the happiest of endings. I'd suggest taking some tissue into the theater with you. 
Crunchyroll will distribute the special event film in select movie theaters in the United States and Canada on June 25, 28, and 29. The Fruits Basket- Prelude movie will be released both subtitled and dubbed in English, with tickets going on sale Friday, June 3. To check if it is coming to a theater near you and other ticket information, click here!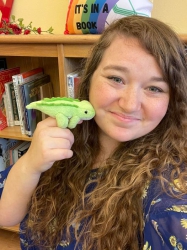 Latest posts by Lauren Darnell
(see all)