If you watched the latest episode of The Clone Wars, "The Phantom Apprentice," then you were treated to one of the best Star Wars duels across T.V. and film. Seeing the Maul versus Ahsoka Tano duel has been on everyone's wish list since Season 7 was announced and for years prior when people were talking about the Siege of Mandalore. But when The Clone Wars was abruptly cancelled in 2014, those hopes died along with it. Fortunately, with this new and final season of The Clone Wars, we are finally able to see what happens directly leading up to and during Revenge of Sith, including that epic showdown between Maul and Ahsoka.
A Long Wait
Lucasfilm and Disney recently released a featurette focusing on that duel and the work that went on behind the scenes. While other episodes of The Clone Wars is purely animation, this duel was different. Showrunner Dave Filoni (Star Wars Rebels and The Mandalorian) wanted this duel to be special. He recognized that fans had been waiting for this moment. "The fans have been clamoring for it ever since we stopped making Clone Wars. They've been so loyal. I just want to make sure we could do it to a level that they feel was honoring Clone Wars the right way," Filoni says in the featurette.
Maul
In analyzing the duel between Maul and Obi-Wan Kenobi in Star Wars Rebels, Filoni wanted to make sure that this Maul versus Ahsoka duel was "bigger." This led to the idea of doing motion capturing and bringing in the original actor who played him, Ray Park (Episode I: The Phantom Menace, Solo: A Star Wars Story).
Ahsoka
To play opposite Park, they had to bring in a performer who could accurately match Ashoka's physicality and fighting style, which they found in Lauren Mary Kim (The Mandalorian). "Lauren was brilliant at really homing in on this style of sword fighting that we wanted Ahsoka to do. Very quick, very acrobatic. It's hopefully one of the best fights we did, if not the best lightsaber fight." To Park it was like a dance between the two performers as they matched each other step for step and blow for blow.
RELATED: THE MANDALORIAN Season 3 Already in the Works at Disney+
A Collaborative Effort
This is the first time that The Clone Wars has utilized motion capture and the visual effects team had to ensure that each movement was in line with the fighting style that is prevalent throughout the series. This meant adding faster hits, higher jumps, and stronger poses. Naturally, the duel would not be as impactful if it were not for the voice work of Sam Witwer (Maul) and Ashley Eckstein (Ahsoka). This was truly was a collaborative effort to bring these two beloved characters to life in this grand fight.
"To put this important story that I really wanted to tell down. To not leave that there with just plans in a sketch book. It feels like a proper ending," Filloni says at the end. Kudos to him and the team for making the duel one for the books, and for honoring the fans and the series in such a remarkable way.
There are only two episodes left in The Clone Wars. Episode 11 airs Friday at 12am PST and the series finale airs on May 4th on Disney+.
Featurette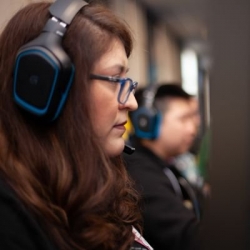 Latest posts by Renee Lopez
(see all)