*Mild spoilers ahead for The Batman
The day has finally arrived, Batman fans. The Batman is in theaters! This movie has been a primary topic of discussion among CBM lovers since the announcement that Robert Pattinson would don the iconic cowl. Here's everything you need to know before you see it.
About The Batman
When a new villain, The Riddler (Paul Dano), begins terrorizing Gotham, critical political figures die at an alarming rate. As his Batman persona, Bruce Wayne strives to bring the man responsible for the deaths to justice. As the investigation progresses, Wayne begins questioning his parents' involvement in the events that led to this situation.
RELATED: Movie Review: Catwoman: Hunted
After meeting Selina Kyle, AKA Catwoman (Zoë Kravitz), Wayne enlists her help. Together, the Bat and the Cat, with the help of Lt. James Gordon (Jeffrey Wright), unravel The Riddler's plans. What they discover may change all of their lives irrevocably.
Matt Reeves directs The Batman with a story by Reeves and Peter Craig. This film is rated PG-13.
My Thoughts
I went into this movie with zero expectations, particularly regarding Robert Pattinson as the title character. Everyone has their own version of a fictional character — what they should look like, how they should act, how their voice should sound, etc. For me, that definitive version never came. That is, until now. After watching all of the previous Batman movies, I lost hope of seeing an incarnation that showcased my vision.
When it comes to Bruce Wayne's characteristics, I never understood why he's depicted as a composed and perfectly groomed playboy. If someone spends almost every night fighting crime and all of their free time training, how could they be collected the rest of the time? It doesn't make sense.
Additionally, people who spend their time in the dark would not adapt well when forced into the light. With that in mind, my vision of Bruce Wayne is that of a disheveled, absent-minded person who cannot socialize.
I am beyond thrilled that Pattinson and Matt Reeves finally brought this version of Wayne to the screen. The character is seen time and again in clothing that does not fit correctly, forgetting where certain items are and without concern for his public image. Also, he frequently wears sunglasses and squints at the light.
Likewise, when Wayne takes on the persona of Batman, I have thoughts about how that should look. The Bat needs to be more than money, brawn and brute strength — he must also display intellect, cunning and wit. Batman needs to have an undeniable presence. Whether he's striding out of the shadows or entering a crime scene, it should affect anyone present.
Once again, this is precisely what The Batman gave me. It's almost as if Reeves and Craig were reading my mind. Pattinson seemed to personify this version of Bruce Wayne/Batman that I built in my head.
RELATED: Check out all of our other movie reviews!
As for Zoë Kravitz as Selina Kyle/Catwoman, I thought she played the part well. Kravitz did well moving with catlike grace, and her portrayal had an enormous amount of talent behind it, not to mention the definite chemistry between Kravitz and Pattinson. My problem with the character is the version of Selena the production chose. Out of all the versions of her, why did it have to be this particular one?
Andy Serkis made a fantastic Alfred. He shows his intellect and actively participates in Bruce's endeavors as Batman. I am delighted to see a version of Alfred that's not ancient.
The interactions between Batman and Catwoman held an obvious charge. One scene, in particular, the "look at me" scene (you will know it when you see it), had enemies-to-lovers-romance-novel vibes, and I am not mad about it.
Another positive note about The Batman is that several aspects showcase that comic book feel. Some of the imagery is incredibly reminiscent of comic book panels. Additionally, Wayne narrates part of the film, which provides a comic book feel.
In terms of the plot, I enjoyed that all of the character's arcs are tied together to create one complete story. The movie is three hours long and every minute of that is necessary. At most, it could have lost around 10 minutes without causing a terrible impact on the plot. But everything is essential. No detail is too small to be a vital plot point.
The primary "bad guy" is the Riddler. I have never been a fan of the Riddler, but Paul Dano did an impressive job displaying the insanity of the character. My biggest complaint with The Batman is Riddler's costume. It threw me off, and it did not have the "punch" I wanted.
Final Thoughts
Overall, this is my favorite Batman movie, and I plan on watching it again, which is a huge compliment from me. Regardless, no Batman fans will want to miss the intense action and storytelling. That said, if you prefer the playboy version of Bruce Wayne, this isn't the film for you.
I am giving this movie 4.5 stars!
Check out the trailer below and watch The Batman, now playing in theaters. Who's your favorite, Catwoman or Batman? Let us know in the comments!
DC FANDOME 2021: BATMAN: CAPED CRUSADER Gives Us a Peek Into the New Series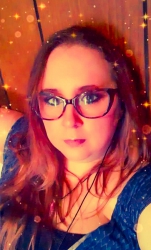 Latest posts by Becca Stalnaker
(see all)