Welcome to this week's installment of Geek Girl Authority Crush of the Week, wherein we spotlight strong women and nonbinary folks who inspire us. These characters are prime examples of empowerment and how crucial it is for youth to have said examples to follow.
DISCLAIMER: The following paragraphs contain spoilers for That '70s Show and That '90s Show.
RELATED: Looking for another strong female crush? Check out our Geek Girl Authority Crushes of the Week here!
Kitty Forman 
Fact Facts:
It is finally time to talk about everyone's favorite mom on the block, Kitty Forman (Debra Jo Rupp). Kitty resides in the small, fictional town of Point Place, Wisconsin. Wearing many hats, Kitty is a mother, nurse, homemaker and the ever-patient wife of resident hard-ass Red Forman (Kurtwood Smith).
Kitty is the mother to Eric (Topher Grace) and Laurie Forman (Christina Moore), as well as the adopted mother of Eric's close friend Hyde (Danny Masterson). She's a mother by definition and choice. She helps every member of the That 70's Show original crew navigate through life in a way only a mother can. That trend continues into the sister series, That 90's Show. Nearly two decades later, she is still mothering every person who walks into her house. 
RELATED: Geek Girl Authority Crush of the Week – Janine Teagues
There are a few key features that define Kitty's life; her home and her hair. In fact, that's how Leo (Tommy Chong) remembers Kitty when they reunite in That 90's Show as "The lady with the house and the hair." 
While these may seem like superficial aspects of her personality, she's seen sacrificing both for the people she loves. Like the episode where Laurie gets into beauty school and has to practice and ends up giving Kitty an awful perm. Or the numerous occasions Eric and his friends ruin or wreck various parts of the house with minimal blowback from Kitty (who usually defends their actions to Red).
Though fans will also say Kitty, is known for her loud, over-the-top signature laugh. This is often heard when she is frustrated or embarrassed and is almost always coupled with a snarky remark. Kitty is the first to remind Eric that "no one likes a porky mouth" but is the queen of the quip herself. She's either wholly self-aware and witty or putting her own foot in her mouth. 
The Real Deal:
Kitty Forman is the real deal; there's no denying it. She's loyal, loving, hardworking, open-minded, and the glue that holds the Foreman family together even when she's flying off the handle. 
She tackles every problem that comes to her with her whole heart. If you've got Kitty in your corner, there is no problem too large to handle or too small to be bothered with. She takes in homeless youth, works a double and then comes home to teach her son's friend how to bake a pie. 
RELATED: What I Learned From the Women of The Magicians
She's also the only person in the world who can calm and redirect Red Forman, making her a force of nature. Grown men might cower at Red's name, but tiny Kitty, who has never bucked from a fight, can take all the wind out of his sails with a look. She may look sweet, but this Kitty has claws!
Why She Matters:
So why does she matter? Kitty is a truly unique character within the media. That 70's Show aired between 1998-2006, which was an era of television characterized largely by two mother stereotypes, disinterested/absent or helicopter moms. 
Kitty is one of the characters whose role in my life has changed as time has gone on. When I was young and the show was still airing on television, I longed to have a mom like her that was trusting, kind and involved. As a young adult, I wished for her ability to dominate the workplace with such confidence. Now that I'm a mother myself, my goal is to be the top block mom who's known as the safe house with the good snacks. The kids won't get my references, but they'll feel my kindness, just like Kitty. 
So dear readers, be more like Kitty Foreman, open to your feelings, confident in your abilities and generous with your kindness.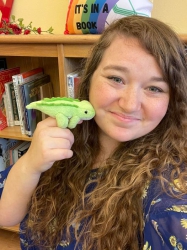 Latest posts by Lauren Darnell
(see all)