With the tremendous success of Fortnite and the record-breaking success of Avengers: Infinity War, it makes absolute sense that these two properties would collide in an epic crossover event.
Epic Games and Marvel Studios announced today that Thanos, wielder of the Infinity Gauntlet and a big proponent of universal balance, will be making his appearance in Fortnite. The "Infinity Gauntlet Limited Time Mashup" mode will be available tomorrow, May 8th, and unlike the standard 100-person Battle Royale mode, and the 50v50 mode, this mode will give players the opportunity to become Thanos himself. Somewhere on the map the Infinity Gauntlet will be in play, and if a player happens to find and equip the gauntlet they will transform into Thanos with all the powers that he has at his fingertips.
RELATED: Choices in Gameplay: What Makes Good Gameplay
According to an Entertainment Weekly article, the idea was thought up by Joe and Anthony Russo, co-directors of the Avengers: Infinity War. It turns out that they are avid Fortnite fans and while they were busy making Infinity War, they would take time to get in a couple of Fortnite games. During their matches, they had the idea of having an Avengers-Fortnite mashup. One call from Joe Russo to Donald Mustard, the creative director for Epic Games, was all it took to bring this idea to fruition.
"Out of the blue, I get this call from Joe. And after a bit of geeking out over each other's work, we start brainstorming these crazy ideas," Mustard recalled in the EW article. "It was really important that whatever we did, it had to be super authentic to both Fortnite and the Avengers: Infinity War, and something that fans of both would be excited about. About an hour later, we had the bones of this awesome idea for a limited time gameplay mode, and almost immediately our team got started."
The "Infinity Gauntlet" mode will be available for free across all platforms (PlayStation 4, Xbox One, PC, Mac and iOS) starting tomorrow. It is a limited time event, so be sure to check out Fortnite to see if you can rise to Thanos-level power. If you don't have Fortnite, you can download it for free from the Fortnite website.
(Images courtesy of Epic Games and Marvel Studios)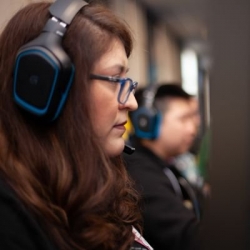 Latest posts by Renee Lopez
(see all)