Welcome to this week's installment of F2P Friday, where we highlight our favorite Free-2-Play games. The video game market is oversaturated, and sometimes hidden gems can fall through the cracks. This is where we do all the digging for you and feature a new F2P game we know you will enjoy every week. Let's dive in!
Take Me or Leaf Me
Take Me or Leaf Me is the world's first digital houseplant dating sim (as far as we can tell), inspired by other wacky dating sims and set in the Kinder World universe. While Kinder World is a mobile game, Take Me or Leaf Me is hosted like an HTML game for free on developer Lumi Interactive's website. 
RELATED: Check out more from our F2P Friday Series!
The Basics
Let's get down to the basics. Take Me or Leaf Me is a plant care tip guide disguised as a visual novel in the very, very best way. The game is set in a local plant shop occupied by four distinct and dateable plants. Each sports a portrait with an attractive human form as well as a sprite of their in-universe plant form, complete with adorably over-the-top anime-react emotes. 
It plays like a traditional visual novel, prompting players to use the mouse to select dialogue prompts from a branching, narrative storyline. This makes the game accessible for romance fans and low-impact gamers. 
RELATED: GGA's Most Anticipated Video Games Dropping in 2023
Why Should I Play?
So why should you play Take Me or Leaf Me? If you are a fan of Kinder World, you will love this free plant dating sim with nods to its mobile counterpart. There is still a lot to love if you are unfamiliar with the base game though!
The game has six unique endings to unlock over a 15-20 minute single game playthrough. Finding all of the endings took me about an hour and was well worth my time. The music is delightful, the art is beautiful and the conversation is entertaining enough to warrant replays. 
Ready to put down roots? You can play Take Me or Leaf Me on the Kinder World website, for free here!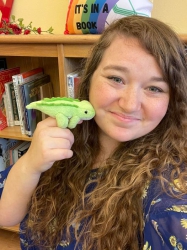 Latest posts by Lauren Darnell
(see all)