The brilliant minds at Game to Grow, in collaboration with therapists, parents, and educators, have launched a Kickstarter to fund their tabletop game Critical Core. This game is designed to provide tweens and teens on the Autism Spectrum an opportunity to build their confidence and social skills by engaging in a role-playing adventure.
From their Kickstarter page: "Critical Core is fit-for-purpose, designed to help neurodiverse players get started and stay engaged. At the same time, facilitators are provided with the right tools to make the experience effective without it 'feeling like therapy'."
The game is suitable to children ages 9 and up and works with 2-4 players. In order to fully enjoy the game, children must have basic listening and verbalization skills. As this is a role-playing game, these are necessary skills to have, but since a parent or a therapist should be present to run the game, it could still work as a fine tool for students who are building these skills. The game's development is based on the late Dr. Stanley Geenspan's  DIR Floortime model with each campaign aligned to the Functional Emotional Developmental Capacities (FEDCs) framework (Self-Regulation, Engagement, Purposeful Communication, Complex Communication and Problem Solving, Symbolic Thinking, Logical Thinking, Multi-Perspective Thinking, Gray Area Thinking and Reflective Thinking).  
Critical Core can be used with Dungeons & Dragons 5th Edition OpenSRD for the more experienced players but the core rules have been simplified from the 5th Edition so that it can be easily accessible to anyone who might be new to the genre.
RELATED: Critical Role Announces Vox Machina Origins Series II Release Date
The Critical Core Starter Set comes with a Facilitator's Guide for parents, therapists and Game Masters, a Player & Game Master Guide, adventure modules, 4 sets of dice, character sheets, game cards, game tokens and a reusable map.
The Kickstarter at the time of this writing has already exceeded the pledge goal of $48,000 with over 550 backers and it still has 37 days left to go.  If you want to contribute to this Kickstarter, you can find it here and you can find out more information on their official website. 
With a pledge of $30 you will get the Critical Core Starter Set in a digital format that you can print at home or view on any device.  For $50 or more, you will receive the physical starter set or you can donate the starter set to someone else anywhere in the world. For $100 you will receive the starter set and one will be donated on your behalf. Larger donations include perks such as having your name on the benefactor's thank you page on the website, a 1-hour video consultation with the creators of the game, and or having your likeness recreated on a character sheet.
As a parent of an autistic child, these types of games solidify the idea that games not only bring people together, but they can teach and help people grow.  It's my hope that this is only the beginning of game developers creating games for children who are not only on the Spectrum but who also face challenging cognitive, speech, and learning disabilities. I know these games are out there, but shining a light on the good work that these companies are doing can only make people pay closer attention.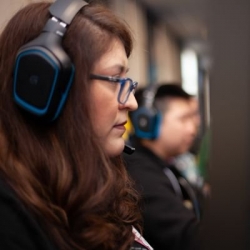 Latest posts by Renee Lopez
(see all)