Praise Chuck! It's finally happening Supernatural fans! We are finally getting the spin-off we want and deserve. Wayward Sisters, a spin-off starring fan favorite Kim Rhodes, is coming to The CW.
For the last 12 years, we have followed Dean and Sam Winchester (Jensen Ackles and Jared Padalecki) as they fought supernatural forces, battled angels and demons and suffered great personal tragedy. Along the way, they have met allies who have helped them fight these forces, but being a friend of the Winchesters usually comes at a cost.
Supernatural has largely been considered a very male-dominated show. It is true that most of the female allies have met their demise in some undesirable fashion. In the last 12 years we have grown attached to Pamela Barnes (Traci Dinwiddle), Ellen Harvelle (Samantha Ferris), Jo Harvelle (Alona Tal), Charlie Bradbury (Felicia Day) and Eileen Leahy (Shoshannah Stern) only to see them die prematurely for the sake of the story. When the character Jody Mills (Kim Rhodes) was introduced in the Season 5 episode "Dead Men Don't Wear Plaid," we were skeptical that she would survive past the season, but fortunately, she has survived and thrived in the series.
Related: Animated Supernatural and Scooby-Doo Crossover Episode Airing in Season 13
As a Sheriff, Jody has been there for the Winchesters time and time again and has proven to be a strong, intelligent hunter. While her story started in tragedy, she has since found a purpose when she took in former vampire blood slave Alex Jones (Katherine Ramdeen) in Season 9. With Alex, we were able to see the motherly side of Jody that we hadn't seen since her tragic loss. Jody's family grew in Season 10 when she took in Claire Novak (Kathryn Newton), the daughter of Castiel's vessel, after the events in the episode "Angel Heart."  
The story of these "wayward daughters" has been a favorite of fans everywhere. A grassroots campaign started two years ago to make Wayward Daughters an official spin-off. The CW didn't jump on the idea right away after having failed to launch the Bloodlines spin-off that had a backdoor pilot in Season 9. Despite the setback, Kim Rhodes and fellow actress Briana Buckmaster (Sherriff Donna Hanscum on the show) jumped on the idea and used the "Wayward Daughters" concept to launch their own fundraising campaigns for Creation Stands (now just Stands).
Last year "Wayward Daughters" raised money for Random Acts, Misha Collins's non-profit organization, and this year, they just launched a "Wayward (AF)" campaign to support New Leash on Life USA.
Now that Wayward Sisters is now happening, we can speculate which direction the show will go. According to the Deadline article, Wayward Sisters will tell "the story of Sherriff Jody Mills, and a group of troubled young women, all of them orphaned by supernatural tragedy." Right now only Kim Rhodes is tied to the project, but we can assume that Katherine Ramdeen, Kathryn Newton and Briana Buckmaster will make appearances, hopefully as series regulars. We can also expect to see brand new characters that we will undoubtedly grow attached to.
The show will have it's backdoor pilot in Season 13 of Supernatural, but there is no information on when that pilot will happen. The show will be executive produced by Supernatural veterans Andrew Dabb, Robert Singer, Phil Sgriccia, and Robert Berens and will be written by Dabb and Berens.
In all, this announcement makes me extremely happy for Season 13. Some people might wonder why a 13-year old show is getting a spin-off, but they really should never underestimate how passionate the fan base is. The Supernatural universe is rich with lore so there will be no shortage of unique and interesting stories for this group of women.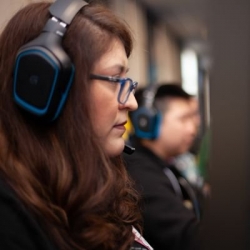 Latest posts by Renee Lopez
(see all)