We are only a few days past the series finale of Supernatural, and let's be honest, there were some things left to be desired in the that finale. Through weeks of speculation, the final story of Sam (Jared Padalecki) and Dean Winchester (Jensen Ackles) left fans wanting. Specifically, wanting to see Misha Collins' character Castiel return.
Warning: spoilers ahead.
And it makes sense. Castiel was a big part of the show for 12 seasons. Castiel is credited with being a major reason why Supernatural lasted 15 years instead of five. He has been touted as the third Winchester brother and for many fans, the relationship between Castiel and Dean was something truly special.
In addition, Castiel's love confession at the end of "Despair" (15×18) finally confirmed what a lot of fans have been assuming for years: Castiel's gay/queer orientation. This was also confirmed by Collins' in a recent Supernatural panel.
Representation on Supernatural has been a little problematic over the years. There have not been many consistent LGBTQ+ characters on the show aside from Charlie (Felicia Day), maybe Crowley (Mark Sheppard) and a handful of guest characters. Unfortunately, most of these characters died before their relationships could be explored.
So, imagine the impact a fan-favorite character (Castiel) admitting his romantic love for another main character (Dean) had on many fans of the show. It was unbelievable.
RELATED: A Farewell to Supernatural
Sadly, Castiel died within a minute of the confession and it was never addressed again in episodes 19 and 20. Dean never spoke about it and, in fact, Castiel's name was only mentioned about four or five times in those last two episodes.
Needless to say, the fans were devastated, but instead of turning that devastation into something purely negative, it manifested into something incredibly positive.
A few days ago, fans (@CROWLEYBEANS and @HellerUpdates) created The Castiel Project. The goal was to raise $1,500 for The Trevor Project in honor of Misha Collins and his character, Castiel. The total now, at the time of this writing, is $40,218. From the project description:
"With a large portion of their fanbase being LGBT+, Supernatural fans were delighted that they were finally being seen. Theories were spread like wildfire, and the fandom was alight with excitement at what might happen next. The term 'Destiel' trended above the US election for several hours.

But when 15.19 aired, and later the series finale 15.20, fans were left feeling more hollow than ever before.

Castiel was killed off not thirty seconds after his confession, and though his eventual resurrection was later mentioned in a passing comment, fans never again got to see him on-screen. Additionally, his sacrifice is not mentioned once in the following episodes, and the main characters do not even seem to mourn their best friend of over a decade."
It concludes:
"That is why we are here now. Queer characters like Castiel and Charlie did not deserve this ending, and neither did we. Let's channel our upset into fighting back in the best possible way – by spreading love and support for these characters, for Robert Berens and Misha Collins, for all those who fought to establish Castiel as a queer character, and for LGBT+ people everywhere."
You can contribute to The Castiel Project by clicking here.
This is just another example of the extraordinary good a fandom can do and how we can honor the characters and the actors that have made a positive impact on our lives.
Thank you Misha and thank you Cas.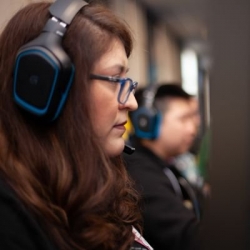 Latest posts by Renee Lopez
(see all)