Over the course of the last 11 years Jared Padalecki, Jensen Ackles, and Misha Collins have encouraged their Supernatural fans to give to various charitable causes including the ones they have founded themselves. Misha Collins has his own charitable group, Random Acts, which runs the annual GISHWES event, a massive worldwide scavenger hunt which promotes camaraderie and random acts of kindness.  Jared Padalecki's "Always Keep Fighting" campaign has supported charities like To Write Love On Her Arms, The Wounded Warrior Project and A.I.R. Attitudes in Reverse. Earlier this year, Jensen and Misha launched their joint "You Are Not Alone" campaign to support the new SPNFamily Crisis Support Network which was created to provide services to people suffering from depression, self-injury, and addiction.
To start this holiday season the amazing trio is once again using their powers for good to launch a new  "SPN Family Love" campaign to support children and families in need. They will be partnering up with several charities to "ensure that nobody in need goes without this holiday season."
In addition to the Facebook post about the campaign, the following letter was posted on the Creation Stands Holiday Giving Campaign page.
Anyone wanting to contribute to the campaign can do so by purchasing a premium Unisex T-Shirt, premium ladies V-Neck, hoodie, beanie or slouch beanie.  The T-shirts are 100% cotton, the hoodie is 50% cotton/50% polyester, the beanie is 100% acrylic, and the slouch beanie is 100% cotton.  The campaign goal is 5,000 styles sold and at the time of this post, they are already at 2,488. Of course, this doesn't mean the campaign stops after 5,000 so click the link and make your contribution!
Orders will begin shipping during the second week of January, so unfortunately you won't be able to sport these rad threads for Christmas, but it is the cause that counts.
More campaign updates will be posted in the upcoming weeks so if you want more information, be sure to follow Jensen, Jared, and/or Misha on Facebook or Twitter.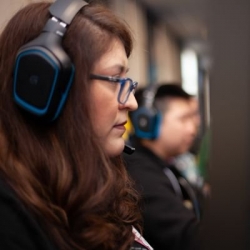 Latest posts by Renee Lopez
(see all)