Today kicked off the first day of events for the massive, live cross-industry showcase for Summer Game Fest 2023. Geoff Keighley hosted the packed show, including new looks at previously-announced games, the latest game trailers, dev interviews and more.
This was the first ever in-person, live gathering for the event since its start in 2020, and it feels like this cross-industry platform is positioning itself to replace E3 permanently. The show debuted some heavy hitters last year, like The Last of Us Part 1 and Marvel's Midnight Suns, so there's definitely potential for big surprises.
With so much revealed, including it all would be quite a list. Instead, we focus on what we consider the highlights of this densely-packed show. Without further ado, here is the list of our most anticipated games. 
RELATED: June's Most Anticipated Video Games
Final Fantasy VII Rebirth
We got our first real look at the second part in Square Enix's Final Fantasy VII remake trilogy: Final Fantasy VII Rebirth. We saw Cloud, Aerith, and the rest of the party riding through the expansive fields of the world outside of Midgar. We saw the party riding Chocobos, exploring towns, and discussing Sephiroth's inevitable return. Red XIII is joining the party, this time as a playable fighter. Unfortunately, the due date has been pushed, and now it is coming to PlayStation 5 early next year.
Mortal Kombat 1
It's In Our Blood. Discover a reborn Mortal Kombat Universe created by Fire God Liu Kang. Mortal Kombat 1 ushers in a new era of the iconic franchise with a new fighting system, game modes, and Fatalities. This newest entry serves as a comic-book-style universe reboot. The game will launch on PlayStation 5, Xbox Series X|S, Nintendo Switch and PC on September 19. 
Content Warning: The trailer for Mortal Kombat 1 is not safe for work and contains violent imagery. Watch with caution. 
Spider-Man 2
A few days after the extended gameplay look at Sony's State of Play, we got another look at Spider-Man 2. We also got the box art reveal showing Peter and Miles in costume shooting webs and learned that Venom wouldn't be Eddie Brock. Summer Game Fest revealed the release date for the long-awaited PlayStation 5 exclusive on October 20. 
RELATED: Take Another Cross-Country Road Trip Inspired by Video Games
Dead by Daylight: Nicolas Cage
Nicolas Cage is coming to Dead By Daylight. The famous actor also appeared on stage for a chat. Cage called Dead By Daylight a chance for him to branch out since he's never been involved in the video game industry before. The Nic Cage chapter comes to Dead By Daylight on July 25.
Sonic Superstars
Sonic and friends are back in a classic way with an all-new look. Join Sonic, Tails, Knuckles and Amy Rose on an adventure that takes "classic" to another level. Team up with friends, master new powers from the Chaos Emeralds and speed through all brand-new zones on your way to take down Dr. Eggman. It finally feels like Sonic might be on Mario's heels once again.
Get ready for Sonic Superstars, arriving in the fall of 2023.
Sandland
Sandland is an Action RPG designed by legendary anime artist Akira Toriyama. The game still has a distinct, updated style from his other properties, though, showing tank and melee combat across the game's vast desert. This game has no release date yet, but it is coming to PS5, Xbox Series X and Switch.
RELATED: Protips for The Legend of Zelda: Tears of the Kingdom
Party Animals
Fight your friends as puppies, kittens and other fuzzy creatures in this party game brawler, Party Animals. Paw it out with your friends both online and offline. Interact with the world under our realistic physics engine. Party Animals will be available on PC via Steam, Xbox One and Xbox Series X/S on September 20.
Alan Wake 2
The game has two playable characters — Alan Wake and Saga Anderson — with a 50-50 split between them. Saga is an FBI agent in the Pacific Northwest, while Alan Wake is trying to escape from the nightmare dimension. Alan Wake 2 is coming out on all platforms this fall. 
John Carpenter's Toxic Commando
John Carpenter's Toxic Commando is a new first-person shooter that's an ode to '80s action and horror. The reveal trailer showed well-equipped military vehicles and plenty of guns to take on overwhelming hordes of undead enemies. Now, I'm going to be humming that song all day. This game is coming to Xbox Series X|S, PS5 and PC sometime next year.
RELATED: GGA's Favorite Foods From Our Favorite Video Games
Under the Waves
We got a gameplay trailer for Under the Waves, an underwater exploration game reminiscent of Subnautica. The gameplay combines submarine piloting and scuba diving with an unsettling atmosphere. The wait with be short, with the game coming out on August 29.
Which game are you the most excited to see? Sound off in the comments to tell us your most anticipated game from the stream!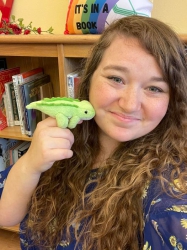 Latest posts by Lauren Darnell
(see all)