Today kicked off the first day of events for the massive, live cross-industry showcase Summer Game Fest 2022. Geoff Keighley hosted the packed show, including new looks at previously-announced games, the latest game trailers, dev interviews and more!
With so much revealed, including it all would be quite a list. Instead, we focus on what we consider the highlights of the densely-packed show. Without further ado, here is the list of our most anticipated games. 
The Last of Us (Remake)
Come on, did we even have to tell you? The number one spot on this list was easily taken by the announcement for the remake of The Last of Us. Naughty Dog promises the remake will delight gamers with a revamped enemy AI based on The Last of Us Part 2, 60FPS performance, new combat options and more. The remake will be available on September 2, 2022. 
The Callisto Protocol
The Callisto Protocol vows gamers that it'll be one of the scariest games ever. Today, we got an extended gameplay demo confirming it is well on delivering on that promise. In it, we see brutal deaths for not only the enemies but our main character. Limbs will fly across the screen in The Callisto Protocol on December 2, 2022.
Cuphead: The Delicious Last Course
Just one day after we saw Ms. Chalice's debut in The Cuphead Show! during Netflix's Geeked Week animation showcase, gamers got another look at Ms. Chalice in action. The new character is seen in all her charming glory during the Cuphead: The Delicious Last Course gameplay trailer. Thankfully, we don't have long to wait until this little cutie dances onto console screens everywhere on June 30, 2022.
RELATED: Netflix Geeked Week 2022: Check Out the Highlights From the Animation Showcase
Goat Simulator 3
In true Goat Simulator fashion, the Goat Simulator 3 trailer came out of the left field to troll us all. Gamers were treated to a fantastic Dead Island 2 parody trailer. It was cinematic only, so we didn't get a look at gameplay, but I believe this is a better indication of the hilarious antics we'll see in the game this fall. Before you ask, no, you did not miss playing Goat Simulator *2*. 
Marvel's Midnight Suns
Did your Spidey sense start tingling? That might be because our favorite webhead swung into the new Marvel's Midnight Suns trailer to announce his spot on the roster. The trailer introduced the main villain, Lilith, and corrupted versions of Venom, Sabertooth, Scarlet Witch and the Hulk, with their entrances set to a badass Metallica track. Marvel's Midnight Suns will be available on October 7, 2022. 
Metal: Hellsinger
Speaking of great music, we have to talk about Metal: Hellsinger. It received a new gameplay trailer and showed off more of the music-based rhythm shooter with music from such heavy metal legends as System of a Down. This is a game where your ability to shoot on the beat will enhance your gameplay experience. The more in sync you are with the rhythm, the more intense the music will become and the more havoc you will wreak. 
Stormgate
Stormgate is presented by Frost Giant, the studio containing some of Blizzard's ex-devs. Some of those devs stopped to explain that the game features competing factions in a post-apocalyptic world in a 3-player open-ended co-op style with competitive multiplayer. Stormgate will have a beta in 2023 and will be free-to-play when it is released.
Warhammer 40k Darktide
Warhammer 40K: Darktide is a four-player co-op shooter where you and other players must fend off hordes of foes in classic Left 4 Dead fashion. The gameplay trailer showed off dark and grim visuals as players work together to fight baddies and complete tasks. The game will release on September 13, 2022.
RELATED: Summer Game Fest 2022: The Hunt Resumes in the Aliens: Dark Descent Trailer
Highwater 
Highwater is an upcoming action-adventure game that aims to let players explore a world ravaged by the effects of climate change. It reminds me of FAR: Changing Tides with the setting and themes. I'll most definitely play this one later this year. 
Wow, what a showcase! Did we cover some of your favorites? Did we leave your most anticipated play off the list? Share your thoughts with us on the games from the 2022 Summer Game Fest live stream.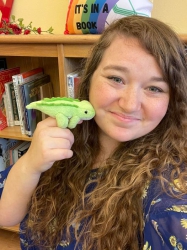 Latest posts by Lauren Darnell
(see all)