Studio Ghilbi is responsible for producing some of the most beautifully animated and heart-touching films of all time. With their masterful storytelling, inspirational characters, soulful soundtracks and stunning, timeless visuals, it's no wonder their movies continue to capture the hearts of animation enthusiasts.
To thank fans for their dedication, they've brought us Studio Ghibli Fest, starting in the spring and lasting through the summertime, that brings their projects back to the big screen. The dates for each movie are now available, and you'll be delighted to hear they might come to a theater near you as GKIDS partners with Fathom Events to re-release the films selectively. 
Here's this year's lineup! 
RELATED: 4 Must-See Anime Hitting Netflix in March
Princess Mononoke (1997) – April 3, 4 & 6
Princess Mononoke is celebrating her 25th anniversary this year! It's an epic historical fantasy film filled with intense action sequences and themes that may not be suitable for younger children. Princess Mononoke follows the story of a young prince, Ashitaka (Billy Crudup/Yôji Matsuda), on a journey taking him far from his village in a struggle against the old gods. It's a mythical clash between the spiritual and the industrial and a must-watch. 
Ponyo (2008) – May 15, 16 & 18
Ponyo, Ponyo, Ponyo fishy in the sea

Tiny little fishy, who could you really be?
Ponyo (Noah Cyrus/Yuria Nara) is about a little goldfish who dreams of living on land with Sosuke (Frankie Jonas/Hiroki Doi)! Watch as she learns how to be a human with her newfound family and leaves her old life in the sea behind. There will be love, laughter and ham! This fun, magical adventure is perfect for the whole family, too. 
The Cat Returns (2002) – June 26 & 27
The Cat Returns also celebrates an anniversary this year — 20 years! When high school student Haru (Anne Hathaway/Chizuru Ikewaki) rescues a cat from losing one of his nine lives, she discovers he is a smooth-talking prince! As a reward for her kindness and bravery, Prince Lune (Andrew Bevis/Takayuki Yamada) whiskers her away to the Kingdom of Cats. It's a humor-filled adventure that's perfect for all ages. 
Kiki's Delivery Service (1989) – July 31 & August 1,3
Kiki's Delivery Service is the coming-of-age story of the titular witch, Kiki (Kirsten Dunst/Minami Takayama), as she leaves home to start her witch training. With only her mother's broom, her father's radio and her best friend Jiji (Phil Hartman/Rei Sakuma) by her side for the journey, she will have to make friends to get by! This high-flying adventure has an impossibly beautiful soundtrack you'll be humming for weeks to come and is the perfect family film (and my personal favorite).
Only Yesterday (1991) – August 28 & 29
Only Yesterday is a film more suited for older teens or adults. It's the story of career woman, Taeko Okajima (Daisy Ridley/Miki Imai), as she leaves the big city to take an extended vacation to visit her sister in the countryside. The plot focuses on her time with her sisters and flashbacks of her childhood. Deeply emotional but rich with humor, this film reminds viewers not to allow the stress of adulthood to quench the spark of wonder in their inner child. 
RELATED: 9 Must-Watch Funimation Anime You Might Have Missed
Howl's Moving Castle (2004) – September 25, 27 & 28
Fan-favorite pretty boy Howl (Christan Bale/Takuya Kimura) is making it back to the big screen this festival! Howl's Moving Castle is Sophie Hatter's (Emily Mortimer/Chieko Baisho) story. After an altercation in her family's store leaves her cursed and turned into an older woman, Sophie flees her boring life and seeks shelter in, well, Howl's moving castle. This film has magic, humor, romance and sacrifice set to an infectious soundtrack. 
Spirited Away (2001) – October 30 & November 1,2
Spirited Away has the honor of closing Studio Ghibli Fest this year! When Chihiro(Daveigh Chase/Rumi Hiiragi) and her family take a shortcut while moving, they wind up at a seemingly abandoned amusement park. While exploring, her parents eat the food of the spirits and transform into pigs.
It turns out the park isn't as empty as it appears and is full of spirits. Chihiro offers to work at the bathhouse to save them so they may all go home together. This movie is perfect for watching before Halloween with the whole family. 
Which film will you see this year? A can't-resist favorite, a new interest or will you try to catch them all? Whatever you decide, you can find the listings for the theater closest to you participating in Studio Ghibli Fest here! 
First Look at SPIRITED AWAY's Live Production Leaves Us Stunned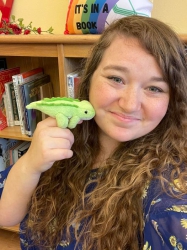 Latest posts by Lauren Darnell
(see all)