June has been quite the month for gaming, and this week is no exception as Steam kicks off Next Fest 2023. While gamers have already been treated to many amazing games this month, this festival focuses on the future of the indie gaming industry. 
Next Fest 2023 is running from June 19 to June 26 on Steam. Gamers can watch live streams, interact directly with developers, download newly released demos and wishlist their favorite games. With thousands of events happening on the site this week, we've compiled a list of some of our favorite demos. 
RELATED: Wholesome Direct 2023: Highlight Roundup 
Paleo Pines
Number one on my list is Paleo Pines, a charming island life-sim game that features friendly dinosaurs, quirky townsfolk and a mysterious past to uncover. Befriend dinos and enlist their help to fix up your ranch and farm crops to create your cozy dino sanctuary. Paleo Pines will be coming out for all consoles on September 26, but you can play the demo today right here.
Cuisineer
Next, let's get a taste of Cuisineer, an adorable rogue-lite-flavored dungeon crawler. Help Pom explore a lush world and defeat monsters with your trusty spatula and some boba tea, then gather delicious ingredients and bring them home to serve at your restaurant. There is no official date for the release of Cuisneer, but you can download the demo here.
RELATED: GGA's Favorite Foods From Our Favorite Video Games
Pizza Possum 
I hope you still have some room in your belly because next, we are discussing Pizza Possum. Life is good when you are a possum. You can eat all you want, and no one can stop you. Well, except for all the guard dogs patrolling the village. Pizza Possum doesn't have an official release date yet, but it does promise co-op and release on all consoles, so that's enough for us to download the demo here. 
Station to Station
Station to Station is a minimalist and relaxing game about building railway connections. Grab your conductor's hat and bring the voxel-art world to life through the magic of trains. We know this game will come out later this year, but you can play the demo here for now. 
Viewfinder
Viewfinder is a puzzle game with one of the most exciting concepts I have ever seen. Challenge perception, redefine reality and reshape the world around you with an instant camera. Viewfinder is coming out on July 18 for PlayStation, and the demo is available on Steam here. 
RELATED: Take Another Cross-Country Road Trip Inspired by Video Games
Escape From Mystwood Mansion
Speaking of puzzles, one of my favorite streams so far has been for Escape From Mystwood Mansion, thanks to the relative difficulty of the puzzles compared to your typical mystery game. In this first-person puzzle escape room game, you are trapped in the titular Mystwood Mansion. Explore corridors and find hidden rooms while solving puzzles and deciphering codes to find a way out. Escape From Mystwood Mansion will release later this year, but you can download the demo here. 
Loddlenaut
In Loddlenaut, you'll play as an interstellar custodian sent to clean up a polluted ocean planet. Pick up trash, explore the vibrant waters and care for axolotl-like alien creatures. So far, Loddlenaut is only confirmed for release on PC and Mac, but hopefully, we will get this adorable adventure-survival game on the Nintendo Switch, too. For now, you can download the demo here.
Stray Gods: The Roleplaying Musical
Yes, you read that title right, and yes, we also love all the words together, too. In Stray Gods: The Roleplaying Musical, you play in a world where Greek Gods hide among us. Dare to change your fate as you draw friends, foes and lovers into song, using your powers of musical persuasion to unravel the mystery of the Last Muse's death. It is scheduled to release on August 3 for all consoles, but you can play the demo here. 
RELATED: June's Most Anticipated Video Games
Galacticare 
Tired of the medical care offered in this galaxy and ready to rebuild the system from the ground up? Well, you are in luck. As the new director of Galacticare, you will build and manage a series of hospitals to keep your patients alive for as long as possible. It will be released later this year for all consoles, but you can download the demo here. 
Sea of Stars 
Sea of Stars is a turn-based RPG inspired by the classics. It tells the story of two Children of the Solstice who will combine the powers of the sun and moon to perform Eclipse Magic, the only force capable of fending off the monstrous creations of the evil alchemist known as The Fleshmancer. This powerhouse RPG is coming to all consoles on August 29, and you can download the demo here. 
Which demo will you be cracking into during Steam's Next Fest 2023? Ready to dive into the fun for yourself? Go to the launch page to catch live streams, download demos or wishlist your favorite games here!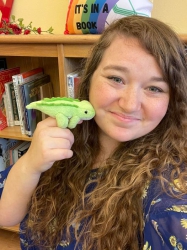 Latest posts by Lauren Darnell
(see all)