A small mistake by the Xbox store turned into good news for Star Wars gamers. EA confirmed that a new Star Wars game, Star Wars: Squadrons, is coming.   
Pilots Wanted. Tune in for the reveal trailer of #StarWarsSquadrons this Monday, June 15th at 8:00 AM Pacific Time: https://t.co/ULwkIhQy2y pic.twitter.com/L0Z3jC2c3j

— EA Star Wars (@EAStarWars) June 12, 2020
We will not know much about the game until the reveal trailer premieres on Monday, June 15, at 8am PST on the EA YouTube channel. But judging by the official poster, it looks like the focus will be on flying spaceships. All the spaceships. This includes Rebel ships such as the X-wing, Y-wing, A-wing, U-wing, and a MC75 Star Cruiser. We might also see Empire ships like the TIE Fighter, TIE Interceptor, TIE Bomber, TIE Reaper, and a Star Destroyer.
RELATED: Fallen Order's ELIZABETH GRULLÓN Talks Star Wars, Building Characters, Mindfulness, and More
Unsurprisingly, social media is already buzzing about what this game is about. Many are hoping for it to a spiritual successor the widely popular N64 game, Rogue Squadron. Others have likened it to games like Star Wars: X-Wing vs. TIE Fighter or other games in the X-Wing series. There are already gameplay rumors coming from sources close to its development.
As to what platforms Star Wars: Squadrons will be on, it's safe to say it'll be on the Xbox One. Perhaps we will also see a PC version of the game, and maybe we'll see it on the PlayStation 4. With the next generation consoles coming out at the end of the year, we can probably add Xbox Series X and PlayStation 5 to the list.
Fingers crossed that this game follows in the footsteps of Jedi Fallen Order. While it's not a Knights of the Old Republic remake, flying a TIE Reaper will be almost as good.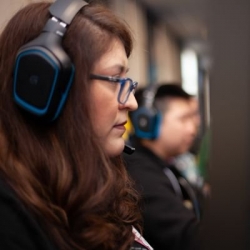 Latest posts by Renee Lopez
(see all)