KOTOR is back! PlayStation Showcase 2021 dropped our jaws today by announcing that Lucasfilm Games and Aspyr are developing a remake of the legendary Star Wars: Knights of the Old Republic!
"Peace is a lie," says Bastila Shan (Jennifer Hale) in a voiceover. "That is what the Sith believe."
First of all, OMG: Jennifer Hale is back as Bastila Shan! The rush of those happy nostalgic Knights of the Old Republic feels!
As a dark-hooded person steps into view, Bastila warns that the Jedi now face the most powerful Sith Lord in generations. A figure ignites their red lightsaber, their iconic mask is illuminated. "They must be stopped," Bastila declares as we gaze on the beautifully rendered and terrifying mask of Darth Revan.
RELATED: 10 Best Star Wars Video Games
Yes, Knights of the Old Republic is getting a remake! Never fear, PC gamers: this fan-favorite Star Wars game is apparently getting a PC version released the same day as the release to PlayStation 5.
What are you hoping for the most from a Knights of the Old Republic remake? A fully-voiced player-character? Restored cut content, such as the planet Sleheyron? Heck, maybe all you want is just Revan brought into the current Disney canon?
No word yet on a release date or even when we can expect a gameplay first look. But you can count on Geek Girl Authority to let you know all the latest details about the KOTOR remake as soon as we hear them! Check out the trailer below! Are you as excited as we are? Let us know in the comments below and on social media! Until then, May The Force Be With You!
Motive Studios' DEAD SPACE Remake Blends Familiarity with Newfound Fear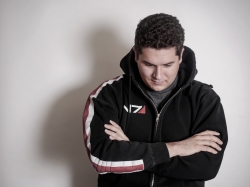 Latest posts by Tyler Boyce
(see all)