Star Wars Celebration 2023 has been giving fans of all ages glimpses of new projects all weekend long, including Young Jedi Adventures. Gather your younglings because this is an animated preschool series that will be released on Disney Junior and Disney+.
Today, we got the first official trailer for the upcoming animated series and were captivated. Master Yoda narrates this trailer, introducing our heroes: younglings Kai, Lys and Nubs, along with their seemingly non-Force-sensitive pilot pal Nash. In it, we can hear Yoda tell them, "Heroes, you were born to be," and that certainly seems to be the case.
RELATED: Disney Junior Releases Young Jedi Adventures Shorts
Young Jedi Adventures is set during the High Republic era when the Jedi Order was at the height of its influence. The show takes place two centuries before the timeline of Star Wars: The Phantom Menace, following younglings as they forge their paths to becoming Jedi knights.
This point in the Star Wars timeline is an era of peace and prosperity for much of the galaxy, making it the perfect setting for this preschool-aged show. It follows Jedi younglings as they study the ways of the Force, explore the galaxy, help citizens/creatures in need and learn valuable skills to become Jedi. 
RELATED: Star Wars Celebration 2023: What We Know About Upcoming Star Wars Disney+ Shows
Between this and the new shorts released on YouTube earlier this month, fans have gotten a good look at Young Jedi Adventures. Will you be tuning in on May 4th? Let us know, and check out the trailer below!
Star Wars Celebration 2023: AHSOKA Teaser Trailer Promises 'Something's Coming'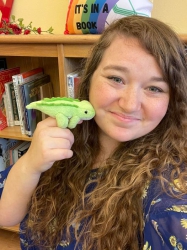 Latest posts by Lauren Darnell
(see all)