Today is the start of the 2022 Star Wars Celebration event, and it kicked off with the Lucasfilm Studio Showcase. It covered what we can expect from the live-action side of Star Wars. Special guests from the upcoming Obi-Wan Kenobi series, Andor, The Mandalorian and more were on the panel! 
RELATED: Star Wars Celebration 2022: Watch the Rebellious Teaser Trailer for Andor
In that "more" category, we got the announcement of a new show coming to Disney Plus, titled Star Wars: Skeleton Crew. It's an original series starring Jude Law and produced by executive producers Jon Watts, Christopher Ford, Jon Favreau and Dave Filoni. While we don't know much yet, we know it'll start streaming in 2023 on Disney Plus.
The official description given says that Star Wars: Skeleton Crew:
Takes place during the post-Return of the Jedi reconstruction that follows the fall of the Empire, the same as The Mandalorian but its plot remains a secret.
We learned it follows a group of 10-year-old kids from a small planet who are lost in the galaxy. No news yet as to whether or not they will be Force-sensitive. It takes place during the same time as the Ashoka series, so I feel like that would be the obvious way to connect them. 
All we can say for sure is that the inclusion of Jude Law is already an outstanding choice. The English actor has been nominated for two Academy Awards and is already well known to the nerd community. Most will know him from his notable roles in the movie franchises Sherlock Holmes and Fantastic Beasts. 
Because there is no live stream of the event, this news broke on Twitter via the official Star Wars page. What do you think, and are you excited to see more? We want to hear from you in the comments! Keep your eyes on this space as we continue to cover the 2022 Star Wars Celebration. 
Star Wars Celebration 2022: THE MANDALORIAN Will Return in 2023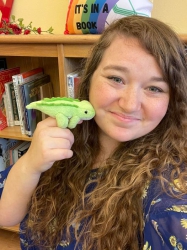 Latest posts by Lauren Darnell
(see all)