Prepare to walk on the Imperial side as the release date for Star Wars Battlefront II was announced today at Star Wars Celebration in Orlando.
Star Wars Battlefront II will be released on November 17, 2017 for PlayStation 4, Xbox One, and on Origin for the PC.
The game's single story campaign, developed by Motive, will follow new character Iden Versio, the leader of an elite special forces unit of the Galactic Empire called the Inferno Squad. The game will take place within the 30-year gap between the destruction of the Death Star II and the rise of the First Order.  Throughout the campaign players will encounter familiar Star War characters like Luke Skywalker and Kylo Ren.
"In Star Wars Battlefront II, we all wanted to really capture the essence of being heroic and how in Star Wars, anyone can become a hero," said Matt Webster, Executive Producer at Criterion, in a press release. "Whether that's playing as an iconic character like Rey or Luke, as a front-line trooper or fighter pilot in epic multiplayer battles, or playing through a new Star Wars story that bridges the gap between Star Wars™: Return of the Jedi™ and Star Wars™: The Force Awakens™, you will become a hero in Star Wars Battlefront II."
"We wanted to create a campaign that told a story we haven't seen before in Star Wars," said Mark Thompson, Game Director at Motive Studios. "It was important for us to tell a new authentic story, one that gives players a brand-new perspective. By putting players in the boots of an elite member of the Imperial forces, we can show them what the battle was like from the other side."
The multiplayer campaign, developed by DICE and Criterion, will include modes supporting up to 40 players and maps that will take players through the prequel, classic, and new trilogies. Players will visit memorable locations like Yavin 4, Mos Easley, Hoth, Endor and Starkiller Base and will be able to play iconic characters like Darth Maul, Kylo Ren, Rey, and Luke Skywalker. Players can choose from a variety of land and air vehicles and can customize their character from a selection of heroes, villains, troopers and Starfighters. And yes, there will be rideable Tauntauns.
Players who pre-order Star Wars Battlefront II will receive The Last Jedi Heroes DLC pack which includes Rey and Kylo Ren themed costumes, upgrades for both characters in multiplayer, access to The Last Jedi Millennium Falcon and a new First Order ship.
If you order the Star Wars Battlefront II: Elite Trooper Deluxe Edition, you will not only receive the Star Wars Battlefront II The Last Jedi DLC content but you will also get upgrades for each Trooper class in multiplayer, an A280-CFE blaster rifle weapon unlock, an enhanced scope modification, and an epic ability modifier. You will also be able to play the game on November 14, 3 days before the official release date. If you have EA Access and Origin Access, you can play the game through Play First Trials starting on November 9th.
You can watch the trailer below and see the stills from the game.
Gallery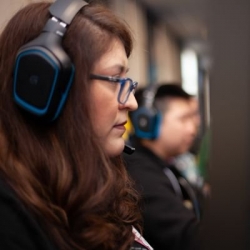 Latest posts by Renee Lopez
(see all)