This review was originally published on 10/7/21.
Netflix's South Korean series, Squid Game, has become an overnight international success. Spawning memes, TikToks and a slew of social commentary, we review this tantalising K-drama.
Warning: Full spoilers for Season One below!
The sleeper hit series, Squid Game, has seemingly taken global audiences by storm, holding the top streaming position on Netflix in all regions where it is currently airing. Stats also show that it will likely become Netflix's most-watched series, taking the reigning title from period romance drama, Bridgerton.
But what has everyone so hooked? Squid Game is the latest international sensation out of South Korea. Following a loveable and humanistic protagonist, Gi-hun (Lee Jung-jae), we're introduced to a surreal and deadly series of playground games in a "winner takes all" fight for a grand cash prize.
RELATED: Netflix Releases Short Teaser for The Umbrella Academy Season 3
Gi-hun, a middle-aged divorcee, is down and out on his luck. When he's approached by a salesman (Gong Yoo) to play a simple children's game for quick cash, he seizes the opportunity. Having won the money, after forfeiting repeated slaps to the face, the salesman incentivises him to join a series of games in the hopes of winning more. 
To Gi-hun, this seems like a harmless way of turning his fortune around. With the money, he'll be able to appeal for custody of his young daughter and cover his mother's medical costs. However, when he's later kidnapped after accepting the offer, the Squid Game does not appear as innocent as it seems.
In a twisted pantomime of childhood nostalgia, Gi-hun and 455 other competitors participate in six traditional children's games for a chance at winning the equivalent of 38 million dollars. However, elimination from the competition is permanent. With bold comparisons to The Hunger Games and Battle Royale, the series provides audiences with unfettered violence and gore as losing players are disposed of. 
It's not just the masked staff members who carry out executions without question or the mysterious masked Front Man (Tom Choi) who are this series' adversaries. The nature of the game ultimately becomes survival when players are forced into positions where they have to make grim choices.
These choices appear to come easy for Gi-hun's old classmate, Sang-woo (Park Hae-soo), as he's willing to withhold information, betray his partner and even murder his fellow competitors to ensure he makes it to the end. This character shows the conflict in human nature — one's willingness to do immoral acts for self-interest.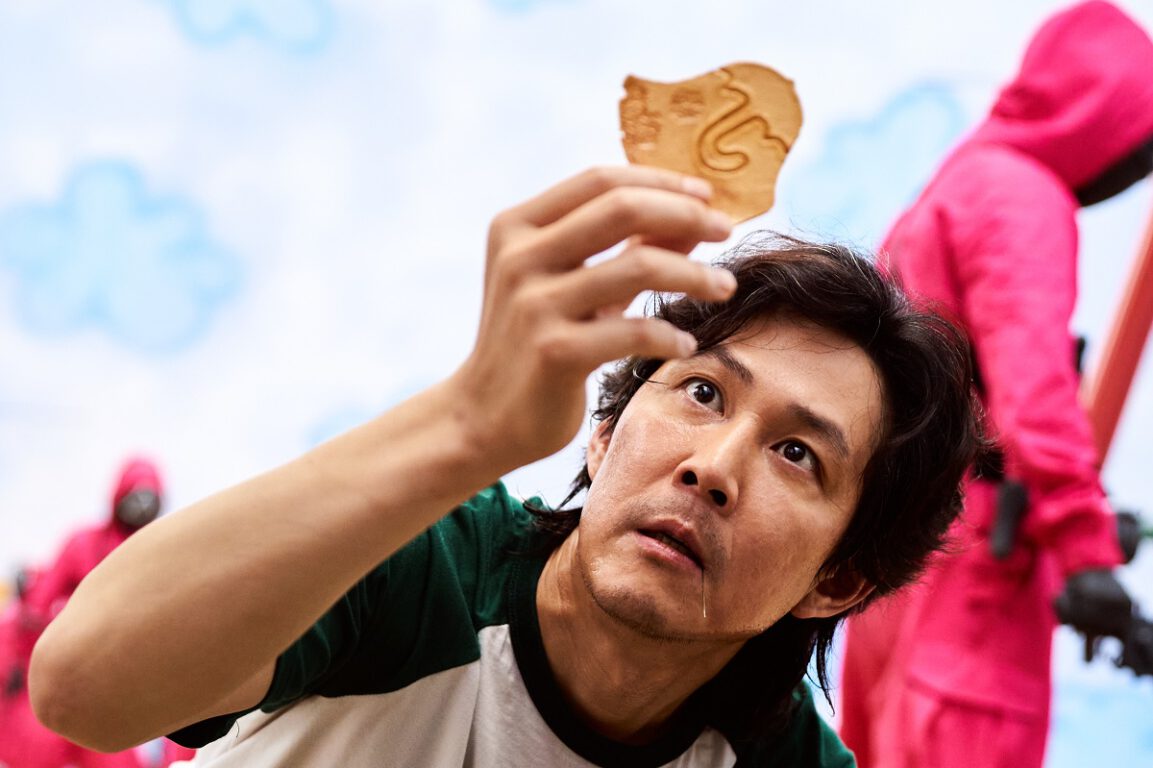 This theme ultimately represents Squid Game's most prominent message. In societies where millions of people struggle to make ends meet, only people's vested greed and self-interest have allowed a handful of folks to become billionaires at others' expense.
We see this theme in action when we learn the games exist purely for the entertainment of mega-wealthy VIPs. Rather than charity or philanthropy, this echelon prefers to watch desperate people risk their lives for financial salvation because, to them, they are merely the numbers on their tracksuits. 
For me, this ideology shows most clearly in the season finale. Gi-hun, the lone victor of the game, lives an empty existence plagued with the guilt of his choices; he receives an invite from his old gganbu (friend). In a twist, some might have speculated (though I had not), Gi-hun's fellow competitor and former teammate, Il-nam (Oh Yeong-su), is still alive.
He reveals himself to be the orchestrator of the games due to his boredom with being wealthy. For him, life was meaningless with so much money, he states in an obscene comparison to the struggles of the economically impoverished.
He wishes to play a game with Gi-hun again in his last few moments, betting on whether a passed-out man across the street will receive help before midnight. Here, he displays his utter disdain and disgust for the "dregs" of society.
For me, there's no more straightforward example for why the games exist — the rich don't see value in the lives of the poor. Yet (as shown in episode two), these people feel they have little choice to participate just for a chance to escape their harsh realities. 
It's easy to see why such sentiments have resonated with a global audience. From the story of the human condition through friendships and survival to the overt critiques of crony capitalism, Squid Game is an addictive and realistic drama. Add to that the gorgeous set design with unique locations, from the pastel-coloured, maze-like corridors to the game rooms themselves. This series is memorable for its visuals alone. 
Another notable standout comes in the form of the young actress and model HoYeon Jung. As a North Korean defector, Sae-byeok, she's one of the show's most intriguing characters. Smart, quiet and yet instantly sympathetic, I rooted for her since the start. 
RELATED: Netflix Dives Into Arcane's World With Brand New Trailer
Squid Game has arrived for an audience ready to consume non-English language media with solid social critiques, eye-popping scenery and a loveable group of downtrodden characters. Be prepared to see many donning green tracksuits and white plimsolls or vivid pink jumpsuits this upcoming Halloween! 
Watch the trailer for Netflix's Squid Game below.
3, 2,1 Let's Jam to the COWBOY BEBOP Opening Credits First Look
Latest posts by Maisie Williams
(see all)