Proving that once again that the gamer community can be a force for good on a global scale, Square Enix recently announced the launch of the Life is Strange: Before the Storm "Your Friend, Me" campaign to support The Jed Foundation (JED).  The campaign's goal is to celebrate the power of friendship while raising money for the nonprofit foundation.
After the tragic loss of their youngest son, Jed, to suicide, Donna and Phil Satow founded The Jed Foundation (JED) in 2000. Their goal was to help young adults across the nation by providing a blueprint for suicide prevention for high schools and college campuses. Today the foundation is "the leading organization dedicated to young adult mental health."
 "We are grateful to Square Enix for helping to raise awareness for mental health and JED's work," said John MacPhee, CEO/Executive Director, JED in a statement. "We all encounter life's challenges and support from friends can help us get through those difficult times. 'Your Friend, Me' is a wonderful way for people to share their story and express their genuine appreciation for a friend, all while spreading a positive message and helping to make a charitable contribution to JED."
Anyone interested in participating in the Life is Strange: Before the Storm "Your Friend, Me" campaign are asked to create and post a short video message describing how a true friend has positively impacted their life. Each video should be signed off with "You friend," and their name.
For every video that is shared on social media with the hashtags #LifeisStrange and #YourFriendMe, Square Enix will donate $5 (up to $25,000) to JED. The contributions will help JED in "improving mental health and supporting suicide prevention efforts for teens and young adults nationwide."
The campaign kicked off this past Sunday the GameStop Expo 2017 in Las Vegas as a way to support National Suicide Prevention Awareness Month. Attendees created their "Your Friend, Me" videos at the Square Enix booth and some of the videos will be featured on the "Your Friend, Me" website.
For additional information on the campaign, go to the "Your Friend, Me" website for rules and additional details.
To find out more about The Jed Foundation, you can check out their website.
And if you or anyone you know is dealing with thoughts of suicide, contact the National Suicide Prevention Lifeline at 1-800-273-8255.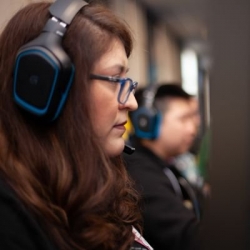 Latest posts by Renee Lopez
(see all)