Sony's first State of Play live stream for 2023 happened today, revealing their upcoming games for PlayStation 5 and PlayStation VR2. This is our roundup of everything shown off at the event, including new trailers for announced games, newly revealed titles and some upcoming indie all-stars. 
All 5 PlayStation VR2 Games
Sony launched their first State of Play showcase by showcasing five new games for the PlayStation VR2. Starting strong, we got an initial look at The Foglands, a haunted first-person shooter where players barrel into the unknown to fight monsters, scavenge look and try to make it back before the fog swallows them.
In the adventure-survival category, we also got a look at Green Hell. The trailer featured the player crafting tents, bows, and other tools to survive in a humid rainforest. Next, viewers were shown a fast-paced FPS with some telekinesis powers called Synapse. The game occurs in a black-and-white world, with the only color seemingly coming from your character's abilities. We also saw Journey to Foundation, a sci-fi stealth game based on the Foundation series. 
RELATED: GGA Game Review: Blanc
The last game shown was Before Your Eyes, a colorful interactive adventure about memories where every time the player blinks, they jump forward in time. This game was previously released but will have a whole new life on VR as players experience life go by in a blink of an eye, March 10. 
Tchia
With an open-world concept and tropical, water-based setting, Tchia is an exciting title upcoming title that promises The Legend of Zelda: The Wind Waker vibes. Players will take on the oppressive rule of Meavora on an archipelago inspired by New Caledonia, all to rescue their father on March 21. 
Humanity
The stream also showed off Humanity, a spirit-like dog leading hundreds upon hundreds of humans in a Lemmings-like fashion. The trailer showed gamers the creation tool, where players can create and share levels online. We don't fully understand what's happening yet, but we are excited to learn this May.
RELATED: Chera Meredith Chats Inspiration Behind Closer Than You Know and Learning to Design Games
Baldur's Gate 3
We were also treated to a substantial trailer for the newest Baldur's Gate game. This time, the trailer showed off much more than the cinematics, focusing on various classes, multiplayer functionality and combat style. Baldur's Gate 3 will be dropping on August 31.
Goodbye Volcano High
We finally got a trailer for the soon-to-be Indie smash-hit Goodbye Volcano High. We've had this unique narrative game on our radar for a while now and are excited to see Fang's story will be available on June 15. 
Resident Evil 4 Remake
Horror fans rejoice; a new look at the Resident Evil 4 Remake has been revealed and confirmed the presence of Mercenaries mode, which is a classic feature from the original game. The trailer also gave us our first look at a boss fight with Jack Krauser and Leon heading through the minecart section. The Resident Evil 4 Remake is lurking just around the corner, arriving on March 24.
Naruto x Boruto Ultimate Ninja Storm Connections
The Naruto x Boruto: Ultimate Ninja Storm Connections trailer also appeared in the stream and will connect the Ultimate Ninja Storm series to future games. We saw gameplay of the battle between main characters like Naruto and Sasuke and some of our favorite supporting characters. No concrete release date has been set yet. 
RELATED: Check out our F2P Friday series!
Suicide Squad: Kill the Justice League
Finally, we got a good, long look at the upcoming Suicide Squad: Kill the Justice League. In it, we got an idea of the gameplay with an extended look at combat, stage design and characters. Rocksteady also confirmed a cosmetic battle pass sometime after launch, gear score mechanics and upgradeable weapons. Join the fight on May 26.
Games Coming for PS Plus:
CodeVein
Rainbow Six Extraction
Tchia
Ghostwire: Tokyo
What State of Play game reveal are you most excited about? Did we miss your most anticipated title in the lineup? Share your thoughts with us in the comments below!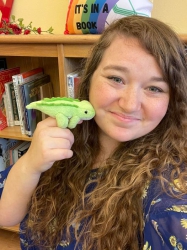 Latest posts by Lauren Darnell
(see all)